HOT NEWS!
July, 2023
Jay's Beautiful Arrangement of the STAR SPANGLED BANNER
Star Spangled Banner - arranged and played by Jay Graydon
"When I was in Japan promoting my album, "Airplay for the Planet", I was asked to do a video for a major TV show. They asked that I play the "Star Spangled Banner" starting with a melodic chord melody rendition and then break into a Jimi Hendrix thing. I spent a few hours in the hotel working out the chord melody part. When I got back to L.A. the song came to mind and I finished the chord melody arrangement in full. I never thought I would record it, but when I worked on my BEBOP album, a few of my guitar pals said I should record and include this arrangement as well.
Further, since I could mix the BEBOP album leaving out one instrument, I did a few versions in that fashion and published one of them - the Minus-Guitar version - on Hal Leonard. So, the BEBOP album is also available as a "Jam-with-the-Band" book/CD package, which is a book with the sheet music and a CD with the music minus guitar as to play with the band with top-notch session players. The book/CD package lets you learn and perform 8 of my original bebop tunes, plus the Star Spangled Banner - a rare opportunity for young jazz music students to perform with a real bebop band and a fun way of keeping your chops up, while playing alone at home.
Both the BEBOP album and the "Jam-with-the-Band" book/CD package, are available via my website
- Jay Graydon

April, 2023
Jay Graydon's Outstanding Guitar Solo on I'M A CAMERA!
Marc Jordan shares with us Jay's legendary guitar solo on I'M A CAMERA, from his album BLUE DESERT produced by Jay.

I chose Jay Graydon's solo on "Iím a Camera" almost at random, because the fact is I could choose any solo he ever played on my songs. Jay was consistently playing at the highest level and his inventiveness was thrilling to watch as he moved from one melodic masterpiece to another.

With a nod of the head to various styles he incorporated within his solos, he created a style all his own. He made my songs better, pure and simple. - Marc Jordan
Generalities
I'm A Camera
Twilight
From Nowhere To This Town
Beautiful People
Lost In The Hurrah
Release Yourself
Tattooed Lady
Exile
Jay Graydon Input (track numbers)
Producer (full album)
Conductor (full album)
Arranger (full album)
Lead guitar (1,2,3,4,7)
Rhythm guitar, soloist (8)
Guitar (5)
Synthesizers (3, 6)
Engineer (full album)
American-born Canadian singer-songwriter, record producer, session musician and actor, born in Brooklyn, NY, son of singer Charles Jordan, and grew up in Toronto, Canada. Jordan's music career really took off in 1978 when he was signed to Warner Music in Los Angeles and began writing songs for and with the likes of Diana Ross, Chicago, Kansas, Manhattan Transfer, Kenny Loggins, Bette Midler, Natalie Cole, Olivia Newton John, Joe Cocker, Bonnie Raitt, Josh Groban, Cher and Rod Stewart. His songs have been on 35 million CDs and he has recorded 16 albums of his own material.
Marc's own comments about Jay in an interview by Toshi Nakada of Cool Sound, Japan.
I met Jay in 1978 on a session for Mannequin ......I was struck by the way his playing had intention ....it was not just blowing over chords...his solos had a beginning, middle and end......they were like little compositions within the song.........I later got him to produce Blue Desert and I think he played some of his best solos on that record. He is brilliant, quirky, funny and so talented and I am glad to call him my friend for all these years.....we've had some great times together and the music he made will live on
......Marc Jordan

Jay Playing on the Latest Single by Ole Børud!
Jay and two of his musician pals from way back when - Bill Champlin and Mike Omartian - are participating on the latest release coming from Ole Børud. The single is available on all streaming services as of April 10th.
Jay's comment below:

"I really dig Ole as he's a great cat and extremely talented on every musical level! Thanks to Ole, he keeps quality pop/R&B/jazz, music alive!" - Jay Graydon

Sharing Pics From Back in the Day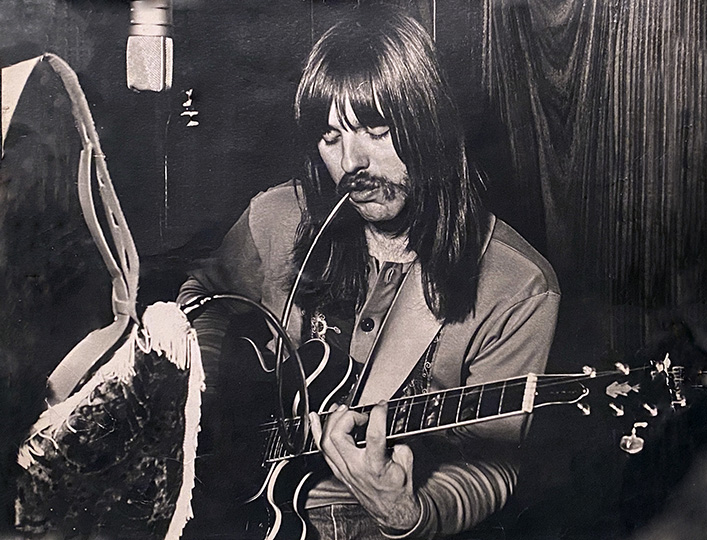 Recently I've been going through pictures and I found these two. The first picture is showing me with a plastic tube in my mouth and this tube is called The Bag. The way it works is when the bag is switched in, it turns off the guitar amp speaker and activates a mid-range driver (which is a speaker that produces frequencies from probably 700 cycles to 2000 cycles). With the plastic tube in your mouth, whatever you play on guitar or whatever instrument you're using it for, the sound pressure resonates your vocal cords so you form word shapes, etc. The sound of the guitar goes into the mouth and you can form some words or syllables. As noted above, this was called The Bag and Don Ellis told me about it as it was at one of the first NAMM shows in 1969. Obviously I bought one.
I think this was around 1971 and I was working with Jim Price, who produced Genya Ravan. Don Poncher, who was one of the drummers in the band took this pic. The album was released in 1973.
When I started doing record dates full time I knew that there could be a better design with a better driver, and a friend of mine that I grew up with, who is Jon Hoehn (John became a doctor but has great blue collar skills as his dad was a blue collar cat and taught John all of his skills so John can build anything!). Long story but there's one part that we had to have made and thankfully a giant airplane manufacturing company did make it for us that screwed on to the driver to the width of the surgical tubing we used.
I called it the Yap-A-Yo Tube.
To make the the tubing sanitary, we used surgical tubing and we also added a separate piece of surgical tubing about 6 inches long for a removable mouthpiece. Before and after using I had a little bottle of alcohol and Q-tips to clean it.
Playing with most of the LA Philharmonic on a George Martin concert at the Hollywood bowl, I was hired to play the Jeff Beck song "Diamond Dust" and more songs George produced. George had produced the band, AMERICA, and they were the featured act. The song "Diamond Dust" was in 5/4 (I think) and the reason I think I was hired was that the contractor knew I had been in the Don Ellis band since was I was 19, knowing I could read "odd times".
Tommy Tedesco was the other guitarist. George Martin told me to play a simple rhythm guitar part on acoustic on another song and I said, "You mean the stupid English style of sweeping rhythm". A few minutes later Tedesco said, "Man I thought I was bold but do you realize what you said?" I quickly said, "Oops, I fucked up!"
The set up of the band AMERICA at this gig was in front of us and I noticed the Yap-A-Yo tube was on the stage sitting next to a mic stand. The Tygon surgical tubing that the sound goes through was taped on the mic stand (as it should be for playing live) and also taped, probably on the microphone, so who is ever using it could simply walk up to the mic and put the tubing in his mouth.†
The foot switch was right next to the Yap-A-Yo unit as to switch off the amp speaker and activate the mid range driver of the Yap-A-Yo unit.† For recording or running through a PA system on a gig, you mic your mouth, the same way you would mic a singer.
I have no idea where the cat bought it, as I only sold a few to a music store. We made 50 of these and I sold the rest to my studio guitar pals. I still have like maybe four.†
I'll definitely do a demo for my YouTube channel and to make sure I don't forget I'll put one in the control room right now.
It's easy for someone to build one with a little electronic knowledge. The only difficult part would be to have someone make a piece of hardware that doesn't contain any dangerous chemicals. It looks similar to a funnel. The unit needs to be threaded to screw onto the mid range driver. On the funnel end, the tubing slips onto that with the same dimensions as the inside of the tubing.
I'll explain all this when I do the video.
I've used it on records over the years and it's fun. You can e.g. hear it on the song "She Just Can't Make Up Her Mind" on my album AIRPLAY FOR THE PLANET at approx. around 3:41 and also on the guitar fills earlier in the song, e.g. in the second verse.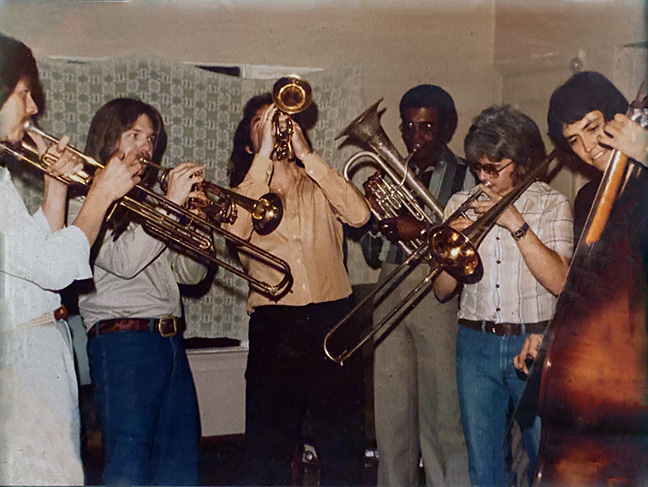 Photo © Don Poncher 1971. (To see a larger image, just click on the pic.)
L to R: David Foster, Jay Graydon, Larry Carlton, Harvey Mason, David Hungate, Willie Ornelas.
We were having a party and started talking about instruments we played when growing up. Ironically, we still had the instruments! We went back to our houses, grabbed our instruments, and came back! David Foster, played valve trombone, Larry and I played trumpet, David Hungate is an excellent trombone player! Harvey Mason is a drummer and didn't play another instrument so Hungate brought a baritone horn for Harvey to play. Willie Ornelas is a drummer and David Hungate brought his upright bass for Willie to play.
For those of you that play any wind instruments, if you don't practice for years, your embouchure will get tired very quickly! We maybe made it through 15 minutes of pretty much just making musical noise and really had fun!

December, 2022 / January, 2023
Happy Holidays to Everyone!
Holiday and New Year's Update from Jay!
I thank each and everyone for your happy holiday wishes! I wish a great 2023 to all of you! It's time for me to go to into the studio to get to work, but first I'll let you know what's in store for 2023!
I'm sorry I haven't had the time to get back to a lot of you who have questions as there's so much to do! When the YouTube channel is up and running, you can leave comments and ask me the questions at that point.
1. I am working on the YouTube educational channel! Of course, I will teach guitar and music in general but the first focus is going to be on recording techniques, I've come up with over the years! I must teach the information before I forget it! Some of the information I'm going to share, is going to change the sound of your recordings and mixing, making it much better by simply understanding the importance of physics and phase (actually, it should be called polarity, but we use the term phase in the studio setting)!
2. I know it's been taking so long to finish the second JaR album mixes. The album will be entitled CODE. The problem with owning an analog console is the capacitors need to be changed every 5 to 10 years as the console runs hot. My excellent tech, Dave Clark, is now working full-time at Warner Bros. so he only has one day a week to work on repairs in my studio as it's more than just capacitor replacements.
3. The Famous E Electric Piano. We're going to release an update soon that will allow a switchable mode the host (DAW, etc). As to clock the tremolo and chorus speeds using the song tempo! This is going to help big time since without this upcoming mode, if the Tremolo speed is set too close to the the song tempo, musicians are trying to fight the Tremolo speed versus playing with actual tempo of the song!
3a. Also, the current software version is much better as to the stereo mode in the advanced page! If you have the Famous E, check out the stereo mode as it takes up a lot less room in the track! I'll explain why. When I first discovered using the Boss chorus with the Rhodes, what that achieved changing the sound from giant mono to giant stereo! The Rhodes is loaded with low frequency information (starting around 80 cycles with a peak at around 125 cycles depending on which bass notes you play) along with upper low to lower mid frequencies)(400 to 700 or so) that can cloud up the vocal area and other instruments!
The fix is to use the stereo panning mode in the advanced page! Start with the pan setting at 68% and experiment from there. This will position notes in a card across the stereo, spectrum taking off the last room in the overall track! Further, it gives you motion like an acoustic piano! Play chords and set the percentage to taste, depending on how far you want the individual notes in the chords to pan! This really gives the track some life! Also, for solos, it really helps to get the listeners attention while the notes are panning to different locations in the stereo spectrum!
Please start with my first preset as I rolled out some of the low med frequencies to give the piano more roam in the track! By the way, when I was doing my preset patches for the program, I made a mistake by setting the chorus level to full wet meaning the knob is set to far right so you donít get any dry signal. Ouch, and I'm sorry! I asked Greg to change that setting to 12 o'clock on the next update, so you have the blend at half dry and half wet, which is what we typically want. After saying that, there are no rules, but just guidelines.
4. The DX7 was a complete game changer FM synthesizer when it came out in the 1980s! My very good friend Chris Poehler came up with a great idea, which is to do a sample library of around 10,000 patches of the best programming designed by a handful of people who were excellent programmers such as my very good friends Dave Boruff and Tom Saviano! We're getting close as to setting up the program and then releasing it through Orange Tree Samples!
5. I am writing a guitar book that's going to have 3 major events! One will be a new way to write down the name of the chord voicings, so you can get the exact voicing intended without writing down the notes!
The second event is I figured out a way to make it much easier to read rhythm patterns! Even if you're not a good reader, you'll catch on very quickly!
As we know, 85% of guitar playing is rhythm guitar. There will be around 1000 rhythm guitar patterns! Then, if you use combinations of the rhythm patterns, the number increases exponentially! I'll also release the audio/video for such rhythms after the book comes out.
When you play these rhythms, the odds are good it will inspire you to write songs as well!
There will be more information in the book as well such as to playing solos and lines, along with harmonizing the lines with two, three, and four harmony parts! This book is going to take a while to complete, but I'm determined to finish it!
6. There's one more thing I want to tell you about which is my very good friend, Dr. Bill Evans, who is an absolute genius, has created AI programs to eliminate leakage from live playing in individual tracks! His programs can do much more than that, as he can control time, pitch, and level of every event!
He has received two PhD's for the first two versions he designed and will receive a third PhD after this program has been completed. It's called "The Graydonizer" and should be released in the beginning of this year at some point!
I asked Bill why is he naming the program after me? He said that I had taught him the importance of phase and how to deal with such phase issues so he has incorporated my concepts in the program.
I'm going to do a video with Bill for my YouTube channel soon so he can show us what the program can do! I've already seen these other programs in operation and it's absolutely incredible what can be done! Bill also designed a program - SpectraLayers - that is similar to the RX native instrument bundle, but I think it's actually better for many audio tools like how to get rid of noise properly and much more!
Comment from Bill Evans: "It's really cool to hear that you're up to all this stuff, man - that's awesome, and looking forward to it. I wanted to add that it wasn't just your knowledge of phase, but your mastery of both music and audio that inspired me (and continues to). Honoured to meet you all, and best wishes for the New Year - Bill."
What's ironic is I've been hired as a consultant and beta tester many times over the years typically by Marcus Ryle, who was responsible for designing the Alesis ADAT, and so much more and then started his company Line 6 That was the first digital guitar amp, and much more! The irony is, guys like Marcus and Bill are off the end of the genius bell curve, but sometimes they don't think of stuff needed to consider. I'm always thinking about ways to do things that aren't possible at first thought such as I figured out how to get audio in the future on an analog tape machine, I'll do a video on that. In any case, I am honored these guys ask me to get involved with such projects.
I'll do a YouTube video as to why these guys hire me as a consultant explaining how the original ADATs was designed with some mode I requested that bypass the analog to digital and digital to analog converters! It's so easy to do, and it's so strange, that none of the DAW manufacturers have included this feature! Even though the converter delay time isn't long, it can be very annoying, especially for singers and drummers - actually everyone that's hearing the converter delay in their headphones when recording. There is a workaround which I'll explain in a video on my YouTube channel.
Again, Happy Holidays to all and I hope 2023 is a great year for everyone! - Jay Graydon

December, 2022
Jay Graydon (Greatest Music of All Time Podcast)
Tom Cridland and his crew revisited Jay in his studio and talked about e.g. the song ROXANN and other songs from his AIRPLAY FOR THE PLANET album, also touching upon playing and producing in the golden era of quality music, today's music industry issues etc.

November, 2022
New Version Of TWILIGHT ZONE/TWILIGHT TONE
Check out this new version (2022) of TWILIGHT ZONE/TWILIGHT TONE, on which Jay is also doing a new version of his amazing guitar solo!
The song is written by Jay Graydon and Alan Paul and here performed by The Manhattan Transfer with Germany's renowned WDR Funkhausorchester KŲln (WDR Radio Orchestra Cologne).

October, 2022
Fred Selden Passing
I am extremely sad as to Fred's passing! He was an outstanding woodwind player and one of the best sight readers ever! We were good friends since 1968 and always kept in contact. We were both in the Valley College Big Band and later on we played together in the Don Ellis band. We played on a lot of sessions as well after the Don Ellis days! Fred had a great sense of humor, and we were laughing half the time, especially on the Don Ellis bus rides! He was such a great cat and I will miss him dearly! - Jay
Fred Selden was nominated for a Grammy Award as Best Instrumental Arrangement in 1971 for his composition - The Magic Bus Ate My Doughnut! Don Ellis says in his annotation of this tune, which is included on - The Don Ellis Orchestra Live at The Fillmore: "Fred Selden has been an important member of the band for several years now. He first started playing in one of my student rehearsal bands and as our lead sax player he has been contributing some of our most intriguing and exciting scores."
Here is a playlist with the Don Ellis Recordings - featuring Jay on guitar.
Details noted on the session pages.
NEW DON ELLIS BAND GOES UNDERGROUND
DON ELLIS AT FILLMORE
CONNECTION
SOARING

Two Don Ellis reunion gigs (in 2005 and in 2007) presented on these pages below.
Don Ellis Alumni Band - Reunion Gig - 2005
Don Ellis Alumni Band - 2nd Reunion Gig - 2007


August, 2022
The Producers Room Ep24 - Jay Graydon Pt1
"The Producer's Room with Dave Tough interviews Jay Graydon in this two-part video series. Jay is a two-time Grammy winner (he has actually technically won three times but his name wasn't put on one award as an arranger). In the 1970s and 1980s he was a 1st call studio guitarist working and recording alongside names like Tommy Tedesco, Steve Lukather, Dean Parks and Ray Parker Jr. He continues to work as a world-class artist, producer, arranger, engineer, and more out of his studio in Los Angeles. Jay has 12 Grammy finalist nominations including "Producer of the Year" (the year Thriller won) and is responsible for writing several huge hit songs of the 1970s and 80s including "After The Love Is Gone" (#1 for Earth Wind and Fire written co-written with David Foster and Bill Champlin) and "Turn Your Love Around" (a huge #1 hit with George Benson - co-written with Bill Champlin and Steve Lukather).
Jay is also an artist and a member of bands such as Airplay (with David Foster) and JaR (with Randy Goodrum). Jay shares his wisdom of all facets of the music production process Thanks to everyone who made this happen and thank you for supporting the Producer's Room with Dave Tough!"
The Producers Room Ep24 - Jay Graydon Pt2

Summer, 2022
JaR - CODE Update
Message from Jay:
"I'm gonna start a YouTube educational channel in the next few months as soon as the JaR 2 album is finally mixed, which is going to happen as soon as I get my Neve console repaired!
When I get the channel up and running, I'm going to teach stuff most people have never thought of as to engineering/recording and I'm also going to get around to guitar and other music stuff. I'm also working on a guitar book and a couple other books. The guitar book is going to have two very interesting concepts in it!"
- Jay
So, while we are all waiting for the second JaR album - CODE - you may enjoy listening to this song - THE CABO CAD - from the first JaR album - SCENE 29.

May, 2022
JAY GRAYDON featured in "Sounds On Circles" on Solar Radio
Check out this radio show "Yacht Soul special for Jay Graydon" in which Paul Clifford is showcasing Jay's extensive work as a producer, songwriter, arranger, and guest musician. A few lesser known gems mixed with many huge hits being featured within these more than 3 hours of pure ear candy.
Jay's comment:
"Hey Paul,
Well done man! You brought back a lot of memories as each song has its stories!
Sis, yeah, let's put up the link as the order of songs is good! - Later you two, Jay"

March, 2022
YachtRock Podcast "OUT OF THE MAIN"
John and Tom were absolutely gobsmacked to welcome 12-time Grammy nominated, 2-time Grammy winning, and all around legend of music Jay Graydon to the podcast. Undeniably one of yacht rock's greatest talents, Jay shares his tales from yesteryear, reveals a few tricks of his trade, and dives deep into what he's up to today. Here below the podcast interview, which contains music drops and other audio...in three parts, plus the extended video (almost 2 hours long) posted first.
The Extended Video Interview
The Podcast In 3 Parts
EPISODE 22.2: SPECIAL GUEST, JAY GRAYDON
Highlights from Part 1:
The Grammy he earned but never received
His forthcoming YouTube channel and tutorials for budding engineers and guitar players
The curse and blessing that is Jay Graydon's ear
That time Marc Jordan gave Jay the finger
The fable of the Fender E Rhodes
How you can "play" the fabled E Rhodes today
EPISODE 22.3: JAY GRAYDON, PART 2
John and Tom continue their interview with Jay Graydon - composer, producer, session musician, artist...the list goes on and on.
Highlights from Part 2:
EPISODE 22.4: THE JAY GRAYDON GRAND FINALE
The third and final installment of our marathon conversation with yacht rock legend Jay Graydon - more stories, more insights, more laughs, more music...
Highlights from Part 3:
The story behind Jay's album Past to Present - the 70s
Working with (and without) Jeff Porcaro
You'll never guess who Jay says was the best singer he's ever worked with
More tricks of the trade
The classic "After the Love Has Gone" story...with some new details from Jay himself.
Make sure you check out the JaR project!

January, 2022
JAY GRAYDON - New Interview with Tom Cridland
Kicking off the new year with this lengthy interview Jay did with Tom Cridland, when Tom was visiting Garden Rake Studios recently. They cover a lot of interesting topics, like e.g. the development of music from around the 1930s until today, the problem with free music, how to get back to quality music, etc. etc. in this fun and extensive interview. Enjoy!

For previous news entries, please check out the News Archive.