HOT NEWS!
October, 2018
"The Mutual Admiration Society" for Your Grammy Consideration!
As many of you already know, Jay Graydon is a featured guitar player on the track "Strip Mall Gourmet" of this album below - The Mutual Admiration Society.
"For Your Grammy Consideration: The Mutual Admiration Society, an album from Sterling Ball, @jim cox, and @john ferraro. Featuring some of the world's greatest guitarists including @steve vai, @john petrucci, @steve lukather, @steve morse, @albert lee and Jay Graydon. #grammys #FYC"

September, 2018
Airplay remastering 2018 with 3 extra bonus tracks!
Upon request from Sony International, Japan, Jay did this remastering of the AIRPLAY album (released in July 2018) involving several new techniques to enhance and perfect the sonics of the album. It is available as a SACD and as a blue vinyl from various places, among them, these below ...
All data on the songs, releasing label and cat.# is noted in Jay's discography.
Here are a few notes from Jay on how he worked with the remaster this time around.
Hi all of you who like the Airplay album or may have not heard this album, most of you know I have remastered the album a few times over the years. Each time I did so, there was always better electronic tools or Pro Tools plug-ins to use. For this current mastering, I spent 12 weeks as I wanted to reshape the whole sonic concept! In the late 70's and first half of the 80's, recordings had more upper midrange than they do now. One reason Airplay had a lot of upper mids (around 2k to 3k) was David and I thought we had over-produced the album as we had so many guitar and synth parts! The way to get a crowded album to have all parts heard is to add the mentioned frequency on many instruments and vocals.
With the great Pro Tools 3rd party plug-ins such as the FabFilter EQ and Multi-band compressor (and many more plugs), I was able to totally reshape the sonics! I moved the 2 to 3k feature by having the FabFilter multi-band compressor set to tame the 2 to 3k, I used the FF EQ to do the same when needed automating all of the plug-ins as needed to get the sound I was looking for!
Many of the songs needed more bass since in when using vinyl records, the bass creates a wider groove in the record and if the attack is real punchy, (the same for the bass drum), the "spike" could easily make the needle jump out of the groove! With digital audio, that problem does not exist!
Let's back up for a moment. Around 7 months ago, Sony and I thought it would be a good idea to remaster. I think this is the first remastering that used the original 2-track tape instead of a tape copy since when pressing records in other countries, tape copies were made and sent to each country that would release the product.
The original tapes are at Sony (I think in New York) and Sony Japan asked the tape be transferred to digital at 192k-24 bit, which occurred!
When I received the digital files, I was asked to re-master in 4 separate formats, which are ...
24bit / 96 kHz master– as WAV file (including the 3 bonus tracks) for SACD portion of SACD/Hybrid release
16bit / 44.1 kHz master– as one DDP file (including the 3 bonus tracks) for CD portion of SACD/Hybrid release
24bit / 96 kHz master– as WAV file (WITHOUT the bonus tracks) for Side A (Track# 1-5) for Vinyl LP release
24bit / 96 kHz master– as WAV file (WITHOUT the bonus tracks) for Side B (Track# 6-10) for Vinyl LP release
After experimenting with a few songs, I realized Stranded (the 1st song) vocal level would be too low after adding the plug-ins for the total reshaping. One of my best friends is Bill Evans who is a total genius! As part of his PhD research, he created a new type of audio editing program called Belexes that uses augmented reality to explore and edit sounds in three dimensions.
Every waveform you can see in a DAW such as Pro Tools can be broken down into millions of individual sine waves. Once this is done, sound can be edited in three separate dimensions: frequency, time, and amplitude. He now works on a commercial version, invented by his partner Robin Lobel, which runs in two dimensions on ordinary computers. It's called SpectraLayers, and includes a feature they added for my own work.
So back to Stranded. Since I needed the vocal to be as much 5 dB louder than it was, I asked Bill if he could remove the vocal from the instruments and send me both tracks. Actually to do this as good as possible, since there are vocal parts that overlap each other, There are 3 vocal tracks and an instruments track (all are obviously stereo tracks).
Working with SpectraLayers and Steve Oliver at Audioamix (TRAX), Tom (Bill's co-engineer) and Bill separated the three vocals to separate tracks.
Here's the audio of a section of the song before separating the vocals, then a version with just the vocals, and then the full track with the instruments put back together with the new boosted level riding.
You are going to hear some of this sound kind of robotic and other little anomalies BUT when I tweaked the EQ and more, and then mixed back together to one stereo track, almost impossible to notice the vocals were ever removed and added back!!!! - Jay
AUDIO SAMPLES - Before And After Enhancement
JAY EXPLAINING THE PEG SOLO TO TIM PIERCE!
A few weeks ago Jay's very good friend and an excellent guitar player, Tim Pierce, visited Jay in the studio for an interview on how to to play the iconic PEG solo, as well as chatting about the gear being used and the recording session with Donald Fagen and Walter Becker of the Steely Dan.
Tim is now sharing the video from the event with all of you in his YouTube channel.
A comment from Jay regarding this event:
Near the end of the video, I did not know Tim was going to use live guitar audio along with my recorded track of the solo. If I knew Tim was going to use my "jam along" audio with the track, I would have tuned up and played a few passes to make sure to get it in tune so please forgive the fact the pitch is not good.
Also, the solo is a remake of the original as I have used it a few times in films and TV interviews. Since it costs big bucks to get a synch license from Warner Bros to use the original, I hired my very close friend, Jay Oliver (excellent keyboardist and composer), who is also outstanding as to re-creating sounds with samplers. etc. Unless the listener pays close attention, you might think this is the original Steely version!

August, 2018
JaR 2 AND NEVE 2!
Message from Jay:
Hey all, Jay Graydon here, after many months working with the re-masters for Japan of AIRPLAY and AIRPLAY FOR THE PLANET, plus mixing, mastering and co-producing, the new album by Phil deGruy, I finally resumed working on the JaR 2 mixes. Guess what happens next ...?
Two Caps exploded on my Neve V2 (the insert card power rail cap on channels 18&20) and the smoke rising up from the console scared the shit out of me! It sounded like 10 firecrackers and happened twice within 5 minutes of each other! All of those Caps on every module will need to be replaced asap as too old and they suck major current! More will blow up soon if not replaced!
Soon every cap on the console Neve V2-48) will need to be replaced as they fail! There are around 100 per module. This will be the 6th time a full re-capping will happen in over 30 years! A new console would cost 500,000 bucks and for the first six months, there would be problems so that idea is not practical, especially the price!
As soon as I get problems fixed in the studio I start the mixes. I hope no more than a week from Monday as my tech Dave Clark will work this Monday and next Monday as there are always a few problems. I am now heading into the control room to write out notes for Dave as to failed modules, etc. This issue is major! Shit like this happens all the time with big consoles. The more modules, the more the problems build up. Dave is the main Neve tech at Capitol and he is constantly working on 3 Neves!
The trade off of using an analog console with Pro Tools is worth the hassle as the Neve V2 is the last console with the old style Neve EQ that sounds great!
So hang in there, folks, JaR 2 is on the way! - Jay

April, 2018
JAY JUDGING IN RIT'S SIX STRING THEORY COMPETITION!
Once again Jay is one of the guitar judges in Lee Ritenour's Six String Theory Competition, You are welcome to participate in one of the categories - GUITAR, PIANO, BASS or DRUMS. The registration is open until May 31, 2018. Here is a video with Rit talking about the contest.

March, 2018
BUSY NIGHTS IN THE STUDIO!
It may seem very quiet around here, but the truth is Jay is working hard in the studio, and barely has time to come up for air. Here he is with a brief message to you all.
Hey all, Jay Graydon here. Long time since I posted anything, but I am slammed with work in the studio and not much time for anything else. Just a few brief notes as to what is happening ...
The Japan gig with Foz is postponed due to scheduling problems.
So, right now I am
remastering the AIRPLAY album for Japan
mastering an album for Phil DeGruy
working on finishing the famous E-Rhodes sample program - probably 3 months before release
mixing the Jar 2 album
I will also be a judge in Lee Ritenour's Six String Theory competition

December, 2017
MARRIAGE BETWEEN RIVERA RAKE HEAD AMP AND LINE 6 HELIX USED FOR EFFECTS!
Jay notes:
In the video you just watched or about to watch regarding the marriage of Analog Amplification (my signature Rake Head amp & speaker bottom) and digital (Line 6 Helix I mostly use for a replacement of stomp box effects), I forgot to mention the issue of latency (delay) of digital, obviously the less latency the better.
Before I get into full detail, note that sound travels at approximently1 millisecond per foot. If you are 10 feet away from an analog amp, the sound is delayed to your ears by 10 milliseconds when playing your instrument. We have gotten used to such delay.
The Helix is a digital processor that must use digital to analog and analog to digital converters. The Helix converters induce just 1.1 milliseconds so no big deal. You may think since stomp boxes are analog so no extra delay is in play BUT in this era, many stomp boxes that used to be analog or many new stomp boxes are digital, leading to the fact each digital stomp box induces at least 1.1 milliseconds and maybe more! Further, the converters will typically not be high quality converts that hurt the sound!
The bottom line as to latency is the latency could add a lot of delay!
One more issue to address is noise caused by stomp boxes as well as cables and connectors that dull up the sound. Without getting too technical, impedance loading is in play and more!
WESTCOAST MUSIC MAGAZINE READER'S AWARD!
"Congratulations to Jay Graydon from all the readers of 'West Coast' Music Magazine who voted "Airplay For The Planet" the Best Reissued Album in our 2017 Award Winners Poll. We are delighted to see this particular album reissued as it is a real favourite amongst west coast music lovers and we are equally looking forward to hearing new material from Jay in 2018 too." - Nick Mawson (Editor)
-----------
Hey all, Jay Graydon here.
I just found out about the great news as to Airplay For The Planet has won the Readers Award for "Best Reissued Album Of The Year" in the West Coast Music Magazine!
Wow, what an honor! I thank all of you who voted and again, I am truly honored! If you are interested, this reissue of Airplay for the Planet is available through my website.
I am once again reminded that even though the business part of the music business can be a drag, the bottom line in my job is to make people happy through my music!
Some of you may have seen the movie, Hired Gun. The studio musician sections were short and early touched on, which is good as before the timing of that movie, for a few years, I had been thinking and writing an outline for a documentary of the 1st call studio musicians, background singers, etc. from the 70's through the late 80's — that was the last era of musical songs where players had to be the best of the best! Other than the interviews with all the great musicians, singers, etc. there will be interviews with the artists that were/are stars as to the importance of the studio musicians/singers. Now for the best part! We will record songs from the era the same way we did before Pro Tools help! The viewing audience will be in the control room and studio hearing and watching everything that happens in such sessions! There will be humor for sure and stories only we know!
Also, when you read this, I will finally be mixing the JaR album Code! The odds are good the album will be released by spring.
Further, I have been working on a book for years writing out stories as I think of them. Hopefully that will get released sometime next year.
Thanks again for the huge honor!
Your musical pal, Jay
SUPERIOR DRUMMER 3!
New message from Jay;
Hey all, I have been a beta tester for Toontrack since the first Superior Drummer program came out. I just set up Superior 3 and I must tell you this is by far the best sounding and flexible drum program ever! The midi is perfectly accurate and no inverted phase issues. I am extremely impressed!!!! Check out the program as I think you'll love it!
Superior Drummer 3 at Toontrack

November, 2017
LATEST ON THE E-RHODES SAMPLING PROJECT!
New message from Jay;
If you did not know, George (the owner of the famous E Rhodes) and I have been working on sampling the one and only "E" for nearly 2 years. The full story will be noted when we release the product, which will be as soon as possible. We are in negotiations as to the deal and as soon as that gets wrapped up, we will release for sale!
George and I have listened to every sampled Rhodes we know of. None stand up to the "E". Spectrasonics released a video for their program, Keyscapes. They claim to have sampled the famous "E", which is not true! We contacted the company and asked they stop advertising their Rhodes as the "E" but I think the video still exists. No matter as again, the "E" will be released very soon!
We sampled at 96k 24 bit and will render down to 88.2, 48, and 44.1 so if using other than 96k, there will be no real time rendering down, which helps save DSP power. We did not do any looping as each sample sustains in full!
We are perfectionists so we did not take any shortcuts! Again, the full story when released.
It is fact that any program is only as good as the weakest link in the audio chain - in this case, there is no weak link! Most importantly is the sound source (the instrument sampled)! I have heard/played at least 100 Fender Rhodes over the years and there is no doubt the "E" is the best ever!
Listen to the Al Jarreau - JARREAU - album if you want to hear the sound.
No need to take my word as the person that has heard more Fender Rhodes than anyone is the designer, Harold Rhodes! Over the years Harold was told by many people he should hear the famous "E" so he drove to George's home to listen to it. Harold said it is the best Rhodes he had ever heard!
B3PIO LIVE AND CHRISTMAS TIPS!
As previously announced, the next live gig with B3PIO (Jay Graydon, Greg Mathieson, Raplh Humphrey, Jerry Watts, Jr.) will be on November 9 at the Baked Potato! Hope to be seeing you there!
"It's beginning to look a lot like Christmas, everywhere you go" .... and here are our recommendations for a wonderful holiday season with the best music you can get your hands on.

October, 2017
THE B3PIO BAND HAS ITS OWN FACEBOOK PAGE!
We have now set up a
Facebook page for the B3PIO band
which will note all about the band, like the latest news, bios, and pics. Later on maybe videos and merch as well. There you will also find upcoming gig dates and info on how to book tickets. Since the shows often sell out, best to go to
the Baked Potato site
and buy tickets in advance. There are two sets and if the 2nd set does not sell out, you can stay for the 2nd set, but to make sure you hear both sets, it would be a good move to buy tickets for both.
JAY GRAYDON AND HIRED GUN!
Here below a link to a brief video clip with Jay talking about his
PEG solo on the Steely Dan album AJA.
This clip is taken from the highly acclaimed documentary HIRED GUN, by director/producer Fran Strine.

Jay Graydon VIDEO CLIP from HIRED GUN! The video opens up in a new frame.
*****

THE SPUD GIG WITH A SECRET GUEST!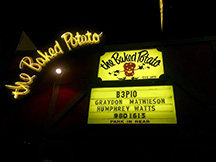 (To see a larger image, just click on the pic.)
The live gig with B3PIO band on October 19, had a secret guest as noted below. Jay says "The Spud gig is so much fun!" and Greg says on his Facebook page ...
"Hi FB Friends, man the band played great last night and "Jake the Rake" played his ass off! So did everyone!!! I GOT ME A NEW BAND. ALSO, BILL CHAMPLIN sat in for two songs and tore it up. Man he is funky and soulful. So here is the deal.....we're playing 11/9/17 and I'm gonna try to have a guest at every show but it's gonna be a secret. So, you're just gonna have to come to the gig and see who it is!!!!! Come out and support your local musicians! - GROOVING HARD GREG"
Sooo, music lovers, don't miss out on getting tickets for the next gig at the Spud with this band - B3PIO (Jay Graydon, Greg Mathieson, Ralph Humphrey, Jerry Watts Jr.) plus a secret guest!!! Again, the date is November 9, the venue is small, so be sure to get tix in time!!!
LIVE GIG AT THE SPUD!
Time again for a live gig at the Baked Potato on October 19 with B3PIO - Greg Mathieson, Ralph Humphrey, Jerry Watts Jr., featuring Jay Graydon. Best to book tickets in advance since the venue is small and both shows were sold out the last time.
TITANS OF RADIO!
New message from Jay;
"Presenting TITANS OF RADIO - a film about the soundtrack to your life. Featuring, David Foster, Ray Parker Jr., Steve Lukather, and myself. This film will be an all access pass to behind the scenes and include re-records of a lot of the hits!
The exciting part of all this and why we are on Kickstarter is, YOU can be a part of this historic production! Check it out here below!
Not only will you hear the stories of how we formed and shaped these songs from the ground up, but we will actually re-record and bring in super star guests to join in on the recordings! Can you imagine some of these songs re-recorded on film with artists like Lady GaGa, Bruno Mars, Adam Levin or a host of other super stars to sing on the track? By contributing to this Kickstarter program you will receive a unique perk and enable us to start production!"

September, 2017
UPCOMING GIGS!
New message from Jay;
"The AIRPLAY gig with Foz at Budokan has been moved to March or May of next year. I will post more details as they become available, and when the date is set, I will be doing a seminar at a Yamaha studio (or a small concert room) 1 or 2 days before the concert. The room will hold around 100 people. We will announce the details as soon as we know when the concert will happen.
My next live gig will be on October 19 with the band B3PIO at the Baked Potato. The venue is small so best get tickets in advance!"
CODE OFFICIAL VIDEO!
A message from Jay:
"Hey all, I know so many of you are waiting for the new JaR album, and as you know I am working on the final mixes at this point, BUT there are soooooo many other things to do at the same time, like doing endorsement videos, teaching my fellow guitarists how to play the solos on a few AIRPLAY songs for the gig at Budokan with Foz November 28, doing interviews, phone calls, emails, writing new songs, working on my autobiography ... etc. etc. ... You get the drift.
Having said that, we will give you a little teaser of the new JaR album - a cool video based on the title song CODE, recently filmed by Bennett Ryle, who did an excellent job!!! Hope you enjoy it!!!!"
WALTER BECKER PASSING!
"So very sad to hear Walter passed away as Steely Dan has helped keep quality music alive in a huge way! Donald says he will keep SD going, which is great!" - Jay
As most of you know Jay played the legendary solo on the Steely Dan song "PEG", where he, as the 7th or 8th soloist was the one who nailed it. Donald and Walter are discussing the making of PEG in this video.
AIRPLAY FOR THE PLANET REMASTER AVAILABLE AGAIN!
"Ooops, the 96k remastered CD of AIRPLAY FOR THE PLANET sold out quickly, BUT we have now pressed up a new batch, which has landed the other day at CD Baby, so not a problem any longer. The remaster is available for purchase through my website and your orders will be quickly taken care of by CD Baby. I know that many of you already own this album in older versions, but this remaster is sooo much better, as many of you have already discovered. Thanks sooo much for your support and great reviews!!!" - Jay

August, 2017
AIRPLAY AT BUDOKAN NOVEMBER 28!
AIRPLAY - David Foster and Jay Graydon - will reunite at Budokan, Tokyo, Japan, for a few songs in the "David Foster and Friends" show on November 28, 2017.
Jay's comments:
"The Japan gig is a David Foster and Friends show and we will do 4 Airplay songs. I am working on setting up a seminar the day before (probably at a Yamaha center) which will include tickets for the gig (good VIP seats), Meet and Greet with me, everyone can ask me questions, and the chance of coming to a rehearsal or sound check. I will probably have a bunch of hand burned 1st generation CD's of mine to sign for everyone. It may be limited to around 100 people but could be more. I will note details as things unfold."
MORE PICS FROM THE SPUD GIG!
Here are a few more pics from the Spud gig on August 10. Thanks to Richard (Rick) Cuilty and Raffi Christopher Donoyan for letting us use your photos. Thanks also to Toshi Yanagi, great guitarist, who plays in the Jimmy Kimmel TV SHOW band. He took the 3 pics in the last row.
Your next chance to see and hear the band B3PIO live at the Baked Potato will be on October 19 or possibly already in September. If so, we will of course keep you posted here on the site, so stay tuned music lovers!
(To see a larger image, just click on the pic.)
JAY GRAYDON PLAYING LIVE AT THE BAKED POTATO!




Jay played a live gig with the new band B3PIO with Greg Mathieson, Ralph Humphrey, and Jerry Watts Jr. on August 10 at The Baked Potato in Studio City. The jazz club was crowded as both sets were sold out and a great time was had by all.

The photographs from the gig are used by permission of the guys who took them. Our thanks go to Jerry Watts Jr. for the first two pics, and to David Goldstein for pic 3. We really appreciate you letting us use your photos, guys!

(To see a larger image, just click on the pic.)

Jay's comments about the gig ...

I assume most of you know I have not played live in many years. Greg begged me to do the gig so I practiced for a month every night and I must say it was worth doing so as I feel I played fairly well and had a great time!

The band B3PIO consists of the following outstanding musicians: Greg Mathieson (Organ and Clavinet), Ralph Humphrey (Drums), and Jerry Watts (Bass). One would not expect the following — we did not have a rehearsal as a band!

Back to the gig at the Baked Potato. The next gig we have at the Baked Potato (we call it, The Spud) is October 19th. Since both shows sold out quickly, if anyone wants to come to the upcoming gig, best to book tickets on line.

It is possible we may play a gig sooner if any band cancels their gig in September.
Here's a quick story as to the history of the band.
Greg and I met in college and quickly became very good friends and worked so many gigs together for a few years and when not working, we jammed often. We jammed with a few different drummers and bass players. Ralph was one of those drummers as I worked with Ralph in the Don Ellis band for a few years.
I remember when Greg first brought a chart for his composition entitled, LMNOP. That was probably 45 years ago! That was the beginning of Greg's band so to speak.
Dan Sawyer (outstanding studio guitarist if you did not know that) was the next guitarist in the band. Then I introduced Greg to Carlton and Carlton was next. After a while, Steve Lukather was the next outstanding guitarist in the band, and then Mike Landau (obviously another outstanding guitarist). So at this point, obviously I am now the guitarist after nearly 50 years ago! As to drummers, I can't remember who was first when Greg became serious as to the band but Jeff Porcaro soon became the drummer in the band. After that I think Abe Laboriel Jr. was next and then Vinnie. So similar to me, Ralph is back in the band! Very ironic the three of us are playing together again!
Abe Laboriel Sr. was the bassist in the band around the time Jeff Porcaro was in the band but no longer as Jerry Watts in now the bassist. I met him last night on the gig and he is an outstanding bassist and a great person!
Now that I feel my playing is getting back to what it should be, I want to play more often so once again I am available for hire to play solos and guitar parts via files sent to me.
In any case, I am really digging playing guitar often these days!

July, 2017
HIRED GUN DOCUMENTARY ON DVD!

April, 2017
RAKE HEAD REISSUE!
Rivera is reissuing the Rake Head May 2017! This is the Jay Graydon signature tone machine that was originally released almost 20 years ago! Only 25 will be made!
From the Rivera website ...
The Jay Graydon Signature Rake Head is back! Resurrected for an ultra limited run. We're building only 25 pieces and then they're gone. You want the Steely Dan tone and more, this amp is for you! And, don't think this amp is only a late 70's early 80's king of tones. The Rake is also known for it's ultra smooth high-gain with thick-mids sonic signature. Tuned by legendary Jay Graydon (LA session guitarist for Air Supply, George Benson, Al Jarreau, DeBarge, El DeBarge, Sheena Easton, Art Garfunkel, Manhattan Transfer, Johnny Mathis, Patti LaBelle, Lou Rawls, Kenny Rogers, Dionne Warwick, Barbara Streisand, Dolly Parton, Diana Ross, The Jackson Five, Cheap Trick, Christopher Cross, Ray Charles, Donna Summer, Cher, Joe Cocker, Marvin Gaye, Hall & Oates, Olivia Newton-John, and Albert King, just to name a few).
Here is a video interview with Paul Rivera Jr. in which Jay explains why he loves this amp.
March, 2017
COOL HANG WITH JONAH!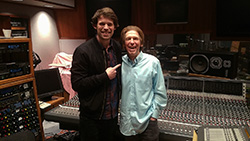 (To see a larger image, just click on the pic.)
Jonah (Dirty Loops) was in LA for a few days, so we got together for a dinner hang the other night and then went to my studio and took this pic. Always great to hang out with him talking about music and other fun stuff.
March, 2017
TOMMY LIPUMA PASSING!
A message from Jay:
It seems too many of our era are passing!
Tommy was a very kind person with a great attitude!! I remember the first meeting I had with Tommy and David Foster in the late 70's. I think David and I were asking for a record deal. Tommy passed on the deal as we were not really ready for such a deal, but that was good in the long run as David and I fell into the RCA AIRPLAY deal by accident.
When Tommy was doing A&R at Warners, it was Tommy's idea to hire me as to co-write and produce songs for the George Benson Collection album, which lead me to co-writing and producing TURN YOUR LOVE AROUD! I really owed Tommy big time for thinking I was the right producer/co-writer for the huge #1 hit!
As for Tommy as a producer, I don't think he was a musician and most of the time, such producers do not have a clue on the musical end BUT he had a sense to what worked well or not and was so easy to get along with regarding producing the artist. I bet every artist that Tommy produced was always pleased with the process! That is a huge compliment! Over many years Tommy and I ran into each other almost once a week in a restaurant we really like and always had a great time talking about most everything. We had many laughs and got along so very well!
I will miss Tommy so very much! So sad he is gone as he will be missed by so many friends! Rest in peace Bro!
February, 2017
AL JARREAU PASSING!
A message from Jay:
Hi All,
Needless to say I have been receiving tons of e-mails and posts on Facebook regarding the passing of Alwin Jarreau and I do thank all of you for your kind messages and for offering your condolences.
Al will surely be missed by all! Al was a good person and no need to mention a extremely talented singer!
Some of the best stuff I have produced and co-written songs for was the five albums with Al!
I had spoken with Al less than a year ago as to get together regarding some unfinished business as well as ideas I had for his live gigs. We tried to schedule a meeting but sadly the time frame did not work out. It was on my to-do list and I was going to call him this week!
During our conversation on the phone, we were laughing about some stories and the conversation was very good!
I have been working on an autobiography for years writing down stories as they come to mind and there will be so many stories as to recording sessions, etc.
If there is any good news at this point, there are many songs we recorded that were not released along with alternate takes. This music needs to be heard so I will contact Warner Bros and Rhino noting I am the only person who knows the information as to put together the audio for all to hear.
In closing, Al had a great life and made so many people happy as to his records and concerts!
Rest in Peace Alwin. - Jay Graydon
February, 2017
AIRPLAY FOR THE PLANET - Remastered at 96k - Thanks!
A message from Jay:
Thanks to all of you for purchasing the 96k version of the AIRPLAY FOR THE PLANET album on my Bandcamp page and thanks also for all of your great and appreciative comments on this enhanced remaster! I really worked hard on making it sound as great as possible and I am very happy with the result.
Right now I am denoising, tweaking, and mixing audio for my very close friend, Phil DeGruy, who is an outstanding solo guitarist in chord melody land! He plays a 17 string guitar and if you have never heard his stuff, go to his website as to check it out.
When done with that project, the next move is to truncate the samples for the incredible "E" Rhodes used on so many recording sessions as the owner George Mamalakis and I partnered up to do the sample library. We are both perfectionists so for the past year the "E" has been tweaked to sound better than ever! George is sampling every note. We will have 19 velocities for each note and no looping meaning the notes sustain until they are silent! George should elaborate as to this. After truncating all notes, we will work out a deal with a major software company as to release for sale.
The next move will be to finally finish the JaR mixes. BTW we have also updated the sessions page on my website with tons of information on recording sessions over the years, with all of the musicians involved and you will surely have fun checking that out!
January, 2017
Screening of HIRED GUN!
Hey all, here is a short message regarding a film, that I am featured in. It is called HIRED GUN and is about studio musicians.
Join director Fran Strine and cast member Ray Parker Jr for a screening of Hired Gun. Jay Graydon is featured in the film and shares really funny stories on the George Benson hit "Turn Your Love Around" with Steve Lukather as well as Jay's legendary guitar solo in Steely Dan's "Peg"…
Portland, OR, on Jan. 28 screening of HIRED GUN.
January, 2017
AIRPLAY FOR THE PLANET - Remastered at 96k!
Question:
Hi Jay, Downloaded the 96k. Great job! Silky mids and lows, fab eq. Was this entirely in the box or was it via your Neve? A credit to you!
---
Thanks for the kind words! I am now remembering the full story. All but 2 songs (maybe 3) were recorded analog 48 track (two MCI (modified) 24 track machines linked via time code). The other two songs were recorded via ADAT (a total of 48 tracks).
All songs were mixed through the NEVE 2- 48 (this is the last NEVE manufactured with the very musical warm EQ). SHE JUST CAN'T MAKE UP HER MIND ended up being a rough mix through the NEVE to a DAT 2 track recorder.
Other than SHE JUST CAN'T MAKE UP HER MIND (recorded to a DAT recorder) all other songs were recorded to an Ampex ATR 102 (1/2" tape) analog recorder.
As mentioned, I transferred the analog 2 track master to Pro Tools at 44.1k and 96k 24 bit.
So none of the songs were mixed in the box! I never mix in the box always using the Neve!
---
As always Jay you are a mine of wonderful information.
AIRPLAY FOR THE PLANET - Remastered at 96k!
AIRPLAY FOR THE PLANET has been selling well and we are running out of stock so when almost out of stock, CD BABY requests more. That opened a can of worms since the program Kerstin used for the original artwork is out of date so she needed to start over using a new program. Since she needed to redo the artwork, I thought it would be a good idea to re-master the audio.
So I have remastered the album at 96k (more about that work below) and we have set up a Bandcamp page for Jay Graydon - AIRPLAY FOR THE PLANET - Remastered at 96k. Welcome to check it out!
When I first set up Pro Tools about 14 years ago I wanted to transfer all analog tapes to Pro Tools as to preserve. The problem with old analog tapes is they won't play as they become sticky as the chemicals used to make tape are part petroleum based. The solution is to have the tapes baked! At that point the tapes will play for about a month. I found all of the analog tapes I could find so after having the tapes baked, I transferred everything into Pro Tools at that time.
I typically recorded the transfers at 44.1k but in some cases, I also recorded at 96k. I asked Kerstin to find out if any company allows 96k audio files to be sold. One of her sons (Stefan) mentioned he uses BANDCAMP for his State Cows albums as they allow 96k files to download!
I thought the re-mastering gig would take a few days BUT it ended up taking 6 weeks, since I am a perfectionist. The concept was to "sculpt" the mastering by automating EQ to make sound as good as possible. I did my best to make the bass sound more "even" as well as bringing up the vocal level on a few songs via EQ, adding some sweet high end frequencies to "open up" some meaning to give it air. Some guitar solos and lines had a bit too much in the 2.5k area so I rode EQ in those spots.
Keep in mind most of the songs were recorded on analogue 2" Scotch 996 tape (at 30 ips), which is the best sounding analog tape ever manufactured! The mixes were recorded on 1/2" Scotch 996 tape (at 30 ips),
Back to the re-mastering, I am just scratching the surface as to describing all of the automated EQ moves I did BUT I must say it was worth the hassle as the album sounds delicious! - Jay
December, 2016
JAY GRAYDON - CROONER SONGS!
"My very good friend Tim Hosman writes many songs for library companies that place the songs on films, TV shows, jingles, etc. Tim was asked by one of the companies he writes for to do 4 songs in the Sinatra, Ella, etc. style. Tim knows that style is so easy for me to write so I composed the melody/chord changes and Tim wrote great lyrics! Tim hired a good friend of ours (George Stone) to arrange for big band and strings. There are small group versions (trio) as well.
Tim had little time to record the stuff but it sounds great! The male singer on the songs is Rick Riso. I produced the vocal on one song - I Fell In Love Today AKA My Heart Skipped A Beat with Kate Reid - and she is a great singer!
Since the tunes are being used by a library company for placements in films, TV shows etc. they all have 2 titles each as follows ...
Swinging For The Fences AKA Swinging For Love
I Fell In Love Today AKA My Heart Skipped A Beat
Hey Cupid AKA Cupid's Crooner
Autumn Breeze AKA My Heartstrings
We had just composed the songs and shortly after that is when I broke my right elbow in half! Ouch! If that had not happened, I may have been more involved as to the production and would have played guitar on the songs in the Freddie Green style (I love to play that style).
The songs have been used in several TV shows, such as PARENTHOOD (Cupid's Crooner), REVENGE (Cupid's Crooner; Swinging For Love; My Heartstrings Trio), ARROW (My Heartstrings Trio), GRACELAND (Swinging For Love Trio), MAGIC CITY (Swinging For Love; My Heartstrings), RAY DONOVAN (Swinging For Love), HOW TO GET AWAY WITH MURDER (Cupid's Crooner), AMERICAN HOUSEWIFE (My Heartstrings), and many more. Some of the songs have been used in movies as well.
The songs are released on a compilation album called - Timeless Vocals: The Golden Years - and the tracks can be downloaded at iTunes. The track numbers for our songs are 1, 2, 3, 6, 9, 10.
Anyway, I hope you enjoy the songs, arrangements, etc." - Jay
November, 2016
AUDIO PLAYERS THAT CAN PLAY 96k?
I have 96k files of Jay Graydon - AIRPLAY FOR THE PLANET. Note this album was mixed on Scotch 996 (the best analogue tape ever manufactured) and when transferring to Pro Tools to master, I recorded 44.1k files and 96k files JUST IN CASE THERE WOULD BE FUTURE AUDIO PLAYERS THAT CAN PLAY 96k.
Do any of you know of such a player? Since 96k files with 11 tracks won't fit on a CD, I have no idea to the format to use. Maybe DVD's?
Please drop me a line via my personal assistant Kerstin or comment on my Facebook page since if you know about the options, if there is enough demand, I would gladly do the work to get the 96k audio files available. - Jay
NEWS FLASH!
Hey all, for all of you interested in the beautiful sound of the famous legendary "E" Rhodes piano ... have we got news for you!!! Jay Graydon and George Mamalakis, who owns this "Holy Grail" piano are working together on a project, which will knock your socks off!!! Just read on, quality music lovers ...
September 16, 2016
THE LEGENDARY "E" RHODES SAMPLING PROJECT!
Eric and I go back many years. I wrote to him directly regarding his claim about sampling the actual "E"" Rhodes and I had no doubt that he would willingly change the wording and video information as to his new program, Keyscape, noting the Rhodes samples are not from the famous "E", but instead from another Leeds Rhodes that Eddy Reynolds modified.
Note, we are all friends here and we surely support all of Eric's plugs as all are great! No doubt Keyscape will be an outstanding program (I am very interested in experimenting with the Yamaha C7 he sampled!). Eric was also very kind as to offer an NFR of Keyscape for both George and me. Of course we will give Eric an NFR when our program is ready for release.
In my e-mail to Eric I noted my personal experience as to all of Leeds Rhodes stating the following:
"Please note when David Foster told me about the "E", from then on we used it on many sessions as you know, the Eddy mod happened later and I noticed the mod improved the sound around 10%.
I had also heard all of the other Leeds Rhodes on sessions (before and after the Eddy mod) in which I was booked to play guitar. When going into the control room listening to the first playback, I would pay attention to the Rhodes sound in order to find out if any other of Leeds Rhodes modified by Eddy were better. I was hoping to hear one that was as good or close to as good as the "E" for my production work since after I spread the word about the "E", booking it could take a month or more, so the sessions were booked around the availability. Man, I must say none were even close to the "E"!
I think my own personal (stage model) Rhodes was manufactured around 1973 (maybe a 72) but no matter, as it was average at best. I hired Eddy to mod my Rhodes (soon after the discovery of the "E") and like I noticed with all of the others, the sound improved only about 10%. After the mod, my Rhodes has been a dust collector, as I never used it again. It's sitting next to my Arp 2600 that has not been powered up for probably 30 years and I'm afraid to turn it on. (g)
Anyway, just noting my experience. I must say that until I play your Rhodes samples in my studio on the big monitors, I am wise enough (maybe I should say "old enough" ) to reserve judgment!"
We will keep everyone informed as to the progress of our exciting sampling project of the famous E RHODES. Meanwhile, we plan to produce some videos that should be of interest — especially to illustrate how the note strikes were struck using a device that George built. He calls it V.E.R.A. (Velocity E Rhodes Actuator) and I am impressed that George designed this incredible mechanism, despite his corny acronym for it! - Jay
September 10, 2016
THE LEGENDARY "E" RHODES SAMPLING PROJECT!
Please tell all of your friends and websites about the "E" program! Spectrasonics has noted misleading information that could destroy the market of the Famous "E" Rhodes owned by George!
Note huge attention will be paid as to the chorus since as we know that is extremely important to the sound! Most people do not realize the using a square wave as the modulator is the smoothest way to chorus! If you have an ALESIS QUADRAVERB, one of the chorus modulator options is a square wave! The designer of the QUADRAVERB is Marcus Ryle and is a very close friend. When I was beta testing the unit for him he mentioned to check out the square wave modulator — I was floored as to the smooth modulation!
Important! Anyone that knows me knows I am a perfectionist. The "E" will not have "looped notes" meaning every sample will sustain until the audio is at -inf! Every note velocity sample will be sampled + 0.3 dB apart meaning the lowest level hit to the extreme hardest attack are in increments of +0.3 dB from each other! This is almost overkill but we want to make sure every possible level of tone change is covered!
We are sampling at 96k/24 bit and of course 88.2k, 48k, and 44.1k will be included in the program. Needless to say the files will be huge! There is so much information to write about and George and I will do so in sections so please check back into my website for upcoming details!
September 9, 2016
THE LEGENDARY "E" RHODES SAMPLING PROJECT!
We would like to congratulate Eric Persing on the launch of his extraordinary new virtual instrument Keyscape, which is featuring probably the largest selection of collector keyboards in the world. However, although Keyscape has a Rhodes sample, in the video, Eric states the Rhodes sampled is the famous legendary "E" Rhodes, WHICH IS NOT TRUE!
There is only one specific "E" Rhodes electronic piano, which Harold Rhodes called "the most beautiful Rhodes I've ever heard!" - that was the real "E" Rhodes, which was used by all the session musicians of the era on e.g. the Jarreau albums and so many others. After discovering the "E", since none of the other Leeds Rhodes were even close sounding, I would not use any other Rhodes on a session, period!!!!
The owner of this piano, George Mamalakis, and I are currently sampling the "E" and will be releasing the product probably in January 2017. We will post news about this on our websites, so keep hanging around if you are interested in getting the genuine unique legendary "E" Rhodes sound. George and I will note full details as things progress, which will be educational! Feel free to share this info on your own Facebook pages!
Check out George's website on the "E" Rhodes for more info ...
April, 2016
JAY AT "HIRED GUN" PRE-SCREENING!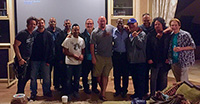 (To see a larger image, just click on the pic.)
Jay Graydon with a few of the musicians, who are featured in the documentary Hired Gun at the pre-screening of the movie at Ray's pad. From right to left, Jay Graydon, Steve Lukather, Ray Parker Jr., David Paich, Sylvester Rivers, Fran Strine (director), David Garfield, and a few others. Jay appears briefly here in the promo trailer at 4:01 - Hired Gun Documentary Sizzle (in association w/ Foolish Kings)
STORYLINE
Hired Gun is a documentary film about session and touring musicians that are hired by well established and famous bands and artists like Metallica, KISS, and Billy Joel. These hired guns may not be household names, but are still masters of their craft. Session Aces. Keepers of Time. Vocalists. Composers. The sidemen and sidewomen who play the riffs and fills we imitate in the air. When we turn up the radio, chances are we are listening to one of these players. A-listers have them on speed dial. International tour or recording session, who're they gonna call? A "Hired Gun." This feature length one-off documentary introduces the prolific musicians who are virtually unknown to the public. Billy Joel, Whitesnake, P!NK and Metallica are synonymous with their own artistry and success, but who is responsible for their instrumental solos? Who tours with them live? It is the consummate side players who kill it show after show, often playing circles around the actual band members. In "Hired Gun," viewers learn the firsthand stories from individuals who have mastered their craft and perform on the world's biggest stages. This film details the highs and lows of touring life, the demands of hectic session schedules, and the dedication required ...
April, 2016
HIRE JAY TO PLAY ON YOUR PROJECT!
Yea, it is really true! Apart from mixing the songs for the new JaR album Jay has now decided he will take on more guitar work for hire from time to time, so if you think you have a suitable project for him to play on ... go for it!
(To see a larger image, just click on the pic.)
Photo © Kerstin Olofsson. All rights reserved.
"Lately I have been accepting studio work for guitar parts and solos. I must say I like doing the work as it makes me play guitar more often!
If anyone is interested as to hiring me for such work, and if I think I am the person to play the guitar parts/solos, please contact me through my website or via my Facebook page.
The way I work is the producer, artist, or engineer sends me the session audio files. I create a new session in my Pro Tools HD 3 system and import the audio. When I have finished the work I send the guitar audio files. I work alone in my studio as that allows me to work on the song(s) late at night. There are more details to note when needed. - Jay"
February, 2016
JAY HANGING WITH THE TOTO CATS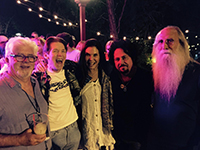 Left to right: Michael McDonald, Jay Graydon, Maureen McGillan Sklar, Steve Lukather, Lee Sklar. Thanks for allowing us to use your very cool pic, Maureen!
(To see a larger image, just click on the pic.)
Jay having a great night out hanging backstage with the TOTO cats after their gig.
Photo © Maureen McGillan Sklar. All rights reserved.