HOT NEWS!
December, 2022
Jay Graydon (Greatest Music of All Time Podcast)
Tom Cridland and his crew revisited Jay in his studio and talked about e.g. the song ROXANN and other songs from his AIRPLAY FOR THE PLANET album, also touching upon playing and producing in the golden era of quality music, today's music industry issues etc.

November, 2022
New Version Of TWILIGHT ZONE/TWILIGHT TONE
Check out this new version (2022) of TWILIGHT ZONE/TWILIGHT TONE, on which Jay is also doing a new version of his amazing guitar solo!
The song is written by Jay Graydon and Alan Paul and here performed by The Manhattan Transfer with Germany's renowned WDR Funkhausorchester KŲln (WDR Radio Orchestra Cologne).

October, 2022
Fred Selden Passing
I am extremely sad as to Fred's passing! He was an outstanding woodwind player and one of the best sight readers ever! We were good friends since 1968 and always kept in contact. We were both in the Valley College Big Band and later on we played together in the Don Ellis band. We played on a lot of sessions as well after the Don Ellis days! Fred had a great sense of humor, and we were laughing half the time, especially on the Don Ellis bus rides! He was such a great cat and I will miss him dearly! - Jay
Fred Selden was nominated for a Grammy Award as Best Instrumental Arrangement in 1971 for his composition - The Magic Bus Ate My Doughnut! Don Ellis says in his annotation of this tune, which is included on - The Don Ellis Orchestra Live at The Fillmore: "Fred Selden has been an important member of the band for several years now. He first started playing in one of my student rehearsal bands and as our lead sax player he has been contributing some of our most intriguing and exciting scores."
Here is a playlist with the Don Ellis Recordings - featuring Jay on guitar.
Details noted on the session pages.
NEW DON ELLIS BAND GOES UNDERGROUND
DON ELLIS AT FILLMORE
CONNECTION
SOARING

Two Don Ellis reunion gigs (in 2005 and in 2007) presented on these pages below.
Don Ellis Alumni Band - Reunion Gig - 2005
Don Ellis Alumni Band - 2nd Reunion Gig - 2007


August, 2022
The Producers Room Ep24 - Jay Graydon Pt1
"The Producer's Room with Dave Tough interviews Jay Graydon in this two-part video series. Jay is a two-time Grammy winner (he has actually technically won three times but his name wasn't put on one award as an arranger). In the 1970s and 1980s he was a 1st call studio guitarist working and recording alongside names like Tommy Tedesco, Steve Lukather, Dean Parks and Ray Parker Jr. He continues to work as a world-class artist, producer, arranger, engineer, and more out of his studio in Los Angeles. Jay has 12 Grammy finalist nominations including "Producer of the Year" (the year Thriller won) and is responsible for writing several huge hit songs of the 1970s and 80s including "After The Love Is Gone" (#1 for Earth Wind and Fire written co-written with David Foster and Bill Champlin) and "Turn Your Love Around" (a huge #1 hit with George Benson - co-written with Bill Champlin and Steve Lukather).
Jay is also an artist and a member of bands such as Airplay (with David Foster) and JaR (with Randy Goodrum). Jay shares his wisdom of all facets of the music production process Thanks to everyone who made this happen and thank you for supporting the Producer's Room with Dave Tough!"
The Producers Room Ep24 - Jay Graydon Pt2

Summer, 2022
JaR - CODE Update
Message from Jay:
"I'm gonna start a YouTube educational channel in the next few months as soon as the JaR 2 album is finally mixed, which is going to happen as soon as I get my Neve console repaired!
When I get the channel up and running, I'm going to teach stuff most people have never thought of as to engineering/recording and I'm also going to get around to guitar and other music stuff. I'm also working on a guitar book and a couple other books. The guitar book is going to have two very interesting concepts in it!"
- Jay
So, while we are all waiting for the second JaR album - CODE - you may enjoy listening to this song - THE CABO CAD - from the first JaR album - SCENE 29.

May, 2022
JAY GRAYDON featured in "Sounds On Circles" on Solar Radio
Check out this radio show "Yacht Soul special for Jay Graydon" in which Paul Clifford is showcasing Jay's extensive work as a producer, songwriter, arranger, and guest musician. A few lesser known gems mixed with many huge hits being featured within these more than 3 hours of pure ear candy.
Jay's comment:
"Hey Paul,
Well done man! You brought back a lot of memories as each song has its stories!
Sis, yeah, let's put up the link as the order of songs is good! - Later you two, Jay"

March, 2022
YachtRock Podcast "OUT OF THE MAIN"
John and Tom were absolutely gobsmacked to welcome 12-time Grammy nominated, 2-time Grammy winning, and all around legend of music Jay Graydon to the podcast. Undeniably one of yacht rock's greatest talents, Jay shares his tales from yesteryear, reveals a few tricks of his trade, and dives deep into what he's up to today. Here below the podcast interview, which contains music drops and other audio...in three parts, plus the extended video (almost 2 hours long) posted first.
The Extended Video Interview
The Podcast In 3 Parts
EPISODE 22.2: SPECIAL GUEST, JAY GRAYDON
Highlights from Part 1:
The Grammy he earned but never received
His forthcoming YouTube channel and tutorials for budding engineers and guitar players
The curse and blessing that is Jay Graydon's ear
That time Marc Jordan gave Jay the finger
The fable of the Fender E Rhodes
How you can "play" the fabled E Rhodes today
EPISODE 22.3: JAY GRAYDON, PART 2
John and Tom continue their interview with Jay Graydon - composer, producer, session musician, artist...the list goes on and on.
Highlights from Part 2:
EPISODE 22.4: THE JAY GRAYDON GRAND FINALE
The third and final installment of our marathon conversation with yacht rock legend Jay Graydon - more stories, more insights, more laughs, more music...
Highlights from Part 3:
The story behind Jay's album Past to Present - the 70s
Working with (and without) Jeff Porcaro
You'll never guess who Jay says was the best singer he's ever worked with
More tricks of the trade
The classic "After the Love Has Gone" story...with some new details from Jay himself.
Make sure you check out the JaR project!

January, 2022
JAY GRAYDON - New Interview with Tom Cridland
Kicking off the new year with this lengthy interview Jay did with Tom Cridland, when Tom was visiting Garden Rake Studios recently. They cover a lot of interesting topics, like e.g. the development of music from around the 1930s until today, the problem with free music, how to get back to quality music, etc. etc. in this fun and extensive interview. Enjoy!

December, 2021
JAY GRAYDON - Happy Holidays!
Hey everyone, Happy Holidays to all!
1. Just an update of what is happening. Randy and I are going to finally mix the JaR album entitled CODE. That is happening now!
2. After keeping notes for many years, it is time to finally do an autobiography on video. I'm going to talk like I typically do and that will be in a book form as well along with many pictures.
3. In a few months time I will start a YouTube educational channel in which I will share my best tips and tricks in recording and guitar land. I have been into electronics as far back as I can remember and at age 11, my dad bought me a mono tape recorder and gave me some mikes, a mixer, and a power amp with speakers he got from a night club, in which he was part owner, when the night club closed. When I was in my early 20s, I bought a 4 track recorder, more mics, a better mixer, etc. Then, while I was doing record sessions for a living, I bought a 3M 8 track reorder, a 2 track Ampex recorder, then a 16 track recorder, then a 24 track recorder, better mixers along the way and so on. In 1979, I had a real recording studio built from the ground up that I still have, which is a pro recording studio. Two 24 track recorders, two 2-track recorders, major outboard gear, so many synths/samplers, ADAT recorders, and finally Pro Tools systems.
Along the way, I figured out so many recording techniques. After coming up with the idea, I would then figure out how to make the idea work using electronics. I had also learned ideas from other engineers and I would then figure out if I could improve such ideas, which typically happened. There is so much to teach!
That is when my PA Kerstin said we should set up a business YouTube Channel, so I have been keeping notes for the past year as to not forget such ideas.
I will start from the beginning so everything makes sense as when I read articles that does not explain the full electronic path, I realized every step needs to be noted and shown recording video of every step! This information will be very important for the beginner in bedroom/house studios with minimum equipment through pro engineers/pro studios!
I will also teach guitar stuff as well and will do many interviews with so many people in all fields meaning musicians, recording artists, etc.
I am also working on a guitar book (with Kerstin's sons, Stefan and Peppe) as I don't want to spend the time learning a notation program, plus the cats have thought of ideas that should be included! I will also video the guitar stuff along with a few surprises guitarists will love!
We will then do a book for keyboard, drums, and bass.
Last thing for now. If you have not purchased the Famous E Electric Piano it is the best sounding Rhodes ever! The full story is noted on my website!
Chris Poehler, Greg Schlaepfer, and I started a sampling project a few months ago that will be around 10,000 DX7/TX7, and maybe more of the DX synth series, samples! I was amazed that the midi on DX7s did not use the full 127 step velocities! We will explain when the program comes out. It is time for those sounds to make a return in pop music since it has been many years since the sounds have been available!
That is all for now. - Your pal, Jay
BTW, also check out this video Kerstin put together for xmas! Great job sis!!!! My dad would love the fact a song he wrote more than 70 years ago is still heard around the world! It was the last time my dad was recorded (being 77 years old at the time of recording) and that made us both very happy! What is most amusing is the role reversal as the student (me) was telling the teacher (my father) how to phrase the vocal in 12/8 time. We both had fun working on the vocal. - Jay
The song - ON THIS CHRISTMAS EVE - is produced, arranged, performed, mixed and mastered by Jay Graydon. His father Joe Graydon wrote the song and sings the lead vocal. Background vocal by Bill Cantos and Jay can also be heard in the bridge.
Joe Graydon had his own TV Show in the 50s - the first music and talk show in the Los Angeles area. The TV show aired live on KLAC Channel 13 and is probably never filmed in full. As far as we know, the only copy of this show is saved on this video in which Jay repaired the audio.
During the late 1940s, Joe Graydon served as a conductor for radio station KLAC's house band, which became known as the Joe Graydon Orchestra for both the radio station and KLAC-TV, and he was featured as a singer-bandleader on early TV shows including Al Jarvis/Betty White's daytime variety show.
Joe Graydon was a singer on the highly popular radio show, "Your Hit Parade". He took Frank Sinatra's place as the leading male singer on "Your Hit Parade" with an air of mystery. Referred to only as "Joe" when he debuted on the show in the mid-1940s, the mystery surrounding his identity only increased his popularity.
A successful singing career followed, and he is best known for his definitive version of AGAIN, in collaboration with bandleader Gordon Jenkins, Joe Graydon was one of the most popular singers of the Big Band era. In 1950 he was offered a job in television as well. "The Joe Graydon Show" was broadcast on Los Angeles and San Diego television stations for much of the first half of the 1950s.
Here is Jay Graydon on the story behind the song ON THIS CHRISTMAS EVE:
"My father Joe Graydon wrote - ON THIS CHRISTMAS EVE - most likely in the late 1940s. Both my father and the Mills Bros, recorded the song in the late 40s but neither version was a hit. I always loved the song and in 1996, I arranged a version for the era. (Note the song was recorded as a demo as to "shop" the song to successful artists recording Christmas songs).
The original arrangement was in 3/4 time. That time signature does not translate well in 1996 for such a song sounding very "square" so I used a 6/8 feel when working out the arrangement. A 6/8 is like a triplet "feel" in 2/4 time (the long single bar "feel" is a slow triplet 4/4 "feel.") So the trick was to find a way to phrase the vocal from 3/4 to 4/4 adding a beat of music every 4 beats. Typically a difficult task as the melody needs to be re-thought while still keeping the integrity of the original as to the delivery of the lyrics. Well, this time it was easy since I had not heard the original recording in many years and envisioned the melody over a 6/8 rhythm pattern. I then taught my father the phrasing. Yea, an interesting experience teaching my father how to sing his own song! Most important to keep in mind my dad was 77 when he sang the vocal!!! He sounds great!!! When "bouncing" his individual vocal track performances to one master track, there was one line in the bridge he did not pull off phrasing wise. I did not want to call him and ask he fix it, since just a demo, so I sang the line. I also thought me singing would make it a family performance but dad did not agree stating it did not make sense for my voice to come out of nowhere. He was correct in that thinking as to a record, but I reminded him it is just a demo to get the song placed, noting when the listener got to the bridge, he already loves the song. In any case, it is cool I sang the line since my dad passed away many years ago so a family recording is in play!!!
The bridge of the song was set up as in my dad's era style of 4 background singers in close harmony. I asked Bill Cantos to sing the parts, which he did. 99.9% of the time I would write out the parts, as the control freak I am, but knowing Bill, no need as his musical ears are outstanding!!! He nailed the harmonies perfectly and also did a great job on the outro section!!!" - Jay
JAY GRAYDON - plus a Few More First Call Guitarists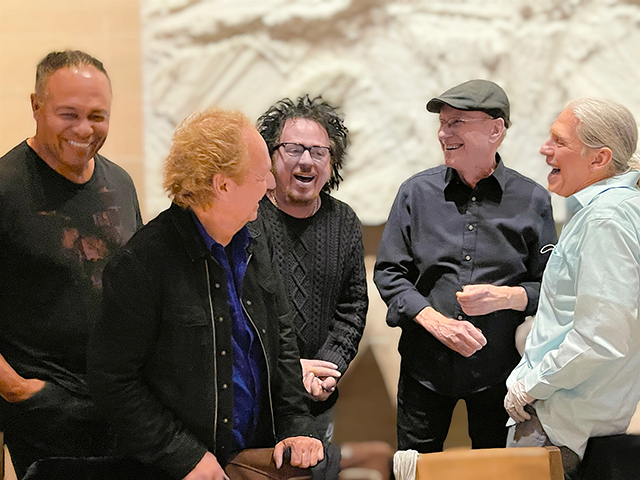 Jay's comments:
Ray Parker has a pal named Ola, who is Norwegian and when Ola comes into town Ray sets up a big hang with some of the cats. This time it was major as like probably 30 people were there.
Nate East took that picture as Nate was sitting right across from me. I spent a lot of time talking to Freddie Washington, who is the bass player in Steely Dan and a great cat. Sylvester Rivers was there as well and all kinds of other cats and it just so happened that the five of us in the picture ended up in that area where Nate took the picture!
Can you imagine how many albums have been sold with all of us five cats, who played guitar on so many records? Obviously someone said something real funny since were all laughing. Whenever any of us get together, there's always so many stories and we also get into technical stuff, etc.
It was a very fun hang and it's clear that we're all like brothers! We all have so much respect for each other! - Jay
November, 2021
JAY GRAYDON - New Version of Mornin'
Jay groovin' hard with Mark Kibble (Take 6), Janis Siegel (The Manhattan Transfer), Lauren Kinhan (New York Voices), and others, playing guitar on a new version of his own song MORNIN'.
"Join Janis Siegel (The Manhattan Transfer) and Lauren Kinhan (New York Voices) as they welcome Mark Kibble (Take 6), La Tanya Hall, Liane Carroll, Raul Midón, young artist Georgia Heers to the Vocal Gumbo kitchens. Backed by incredible instrumentalists (Jay Graydon, Andy Milne, Martin Bejerano, Addison Frei) - this all-star line up of vocalists will astound you!" - Vocal Gumbo
October, 2021
JAY GRAYDON - Recent Guitar Work
Jay has recently finished doing guitar work on a few songs for an album, where he will be featured along with The Manhattan Transfer and a German Pop Symphony orchestra. Jay did new versions of "Twilight Zone / Twilight Tone" and "Nothin' You Can Do About It" for this project and the album will be released next year.
He has also collaborated with Mark Kibble (TAKE 6) on a project, which will be presented in a video on the Music-with-a-Mission platform Virtual Vocal Gumbo - November 11th at 8PM ET /5PM PT. This Online Music Festival website is maintained by Janis Siegel, Lauren Kinhan, and Laurie Green.
September, 2021
JAY GRAYDON - Interviews and More
Yes, it has been very quiet here for quite some time, but that does not mean that Jay has been inactive. On the contrary, Jay has been very busy with various projects lately, which we will tell you more about once we can reveal them. Further, he has been doing several interviews via Zoom and over the phone and continues to do so, as well as doing guitar work for an album, which will be released in a few months.
On the to-do-list now is hopefully the release of the second JaR album - CODE - by the end of this year, and apart from compiling material for his autobiography and for another book on music Jay is also preparing content and topics for his upcoming YouTube educational channel. We will announce here as soon as we launch the channel.
So keep hanging around as there is sooo much more coming!

December, 2020
JAY GRAYDON - December 2020 Interviews
Jay has been doing several interviews and podcasts in November/December and we will post links to them on the website, as they become available.
An in depth interview with Guitarist, producer, songwriter Jay Graydon - Part 1. Interviewed by Preston Williams - Jazztalk.
An in depth interview with Guitarist, producer, songwriter Jay Graydon - Pt 2. Interviewed by Preston Williams - Jazztalk.
"The legendary Jay Graydon has a conversation with Tom about winning two Grammy Awards for "After The Love Has Gone", as made famous by Earth, Wind & Fire, and George Benson's "Turn Your Love Around" respectively. He lifts the lid on the sessions for Al Jarreau's classic record, "Mornin". He also discusses his incredible sample set, The Famous E Electric Piano, available now at jaygraydon.com. Jay will be starting an instructional Youtube channel in the near future, drawing on his many years of experience as a guitarist, songwriter and engineer at the very highest level."
Tom Cridland
- singer songwriter, podcaster and fashion designer.
"This episode's topic is the creation- and sampling-process of the virtual instrument Famous E Electric Piano. Our guests are Jay Graydon and Stefan and Peter Olofsson. Musician and producer Jay Graydon sampled the original hardware instrument and takes us through the steps of bringing it into the digital world."
- Christoph Strauss for
KEYS - Musik und Computer
and
Recording Magazin.
October, 2020
BARRY CROCKER - NO REGRETS - For the First Time On CD!
Message from Toshi Nakada - Cool Sound

COOL SOUND is proud to announce that we release Barry Crocker's "No Regrets" album first time on physical CD!! It's an album that Jay Graydon produced the whole tracks for the first time in 1977. We have just started the mail order today, the 8th of October, and it's the 71st birthday of Mr. Jay Graydon!!
Happy Birthday, Jay-sama!! - Toshi
Read more about it and ORDER YOUR COPY HERE!
Jay's comments on this re-release.
Hey Everyone,

At this time, my studio was 16 tracks and a simple mixer with 22 inputs. I had a BX20 reverb and some outboard equipments along with some good mikes. In between sessions I would write and demo songs and I knew I wanted to be a full time record producer at some point. My good friend John Farrar (Olivia Newton John's producer) had a friend he knew in Australia who was a good selling artist in Australia wanted to come to LA to make an album. Even though the budget was limited, I wanted experience as a producer so I took the gig so this was my first record production.
I was still doing record dates full time so I had to fit in the sessions for Barry's album in-between sessions and probably worked on the weekends. I worked quickly on the album but since I am a perfectionist, I had to do a good job as always. You will notice all of the musicians are mostly the "A" studio players and everyone played very well as expected!
Since I only co-wrote a few songs, Barry's songs had simple chord changes and I always do my best to make the songs as classy as possible so I came up with hipper chords changes where they would work but not to hip as we always must respect the songs and audience. When writing out the arrangements, since again I needed to move quickly, I used the first ideas that came to mind and most likely wrote out most of what was going to be played on the tracking date that included some hook lines. I was not concerned with the guitar parts when writing out the arrangements since I would overdub the guitar parts and did my best to come up with hooky sounding lines.
Barry has good pitch so recording the vocals was fairly easy. Also, Barry is a very nice guy so easy to get along with.
In conclusion, you will hear how we all played during that time and the beginning of my production work. I remember we had fun and as always, a learning experience. I hope you like the album and have fun reflecting as to the era. - Jay
B-DAY MESSAGE FROM JAY!
Hey guys!

I hope you are doing well! I really appreciate your kind birthday wishes and Iím glad to still be on the planet and fully functional!
Sadly musicians are obviously in the group of people who have taken a hard hit like it was not bad enough Spotify and like have destroyed what was left of the music business! Hereís hoping when Covid 19 is under control, we can get back to normal making people happy through our music!
There is a bit of good news, which is pop music is starting to return to quality music with melodies that are using more notes beyond the pentatonic scale! Further chord structures beyond very simple stock progressions are making a return! The best part for guitarists is the guitar playing is very similar to the rhythm guitar and single note parts almost identical to last golden era of music (mid 70ís through mid 80ís)! Even the sounds are reverting to that era such as the new Maroon 5 song, which features a Fender Rhodes! The famous ďEĒ Electronic piano was not yet released when they recorded the song but the keyboard players in the band (such as Sam Farrar) now have the famous "E"! If I have not explained how the ďEĒ was discovered and what made this instrument in demand, let me know and I will tell the full story, which is fluke of events!
Hereís hoping 2021 will be a great year and us musicians will once again be able to play live and record with the rhythm section in one room!
I thank you again for all of your kind birthday wishes as you have made my day!
Your musical pal, Jay

August, 2020
JARREAU MEDLEY SHOWCASING THE FAMOUS E ELECTRIC PIANO!
Hey everyone, check out this video with a Jarreau medley. I can't believe how great Stefan is playing! Also Peppe did an excellent job on the programming! These demos are the best of the best as the songs are from the era! Stefan has become such an outstanding player on all levels and plays the songs exactly like they should be played for pitching! Keep the demos coming as you cats are doing better demos than anyone!!!! These guys are playing great and they're really really really great demos!
Hey Stefan,
OUTSTANDING MAN!!!! You and Peppe have done such an incredible job on all of the stuff and the Jarreau Medley is killer!!!!
No doubt your State Cows fanbase digs the E. - Jay
More demos here
The Famous E Electric Piano

July, 2020
TWO INTERVIEWS BY JON LAMOREAUX AT THE HUSTLE!
July 18, 2020
Musicians, keyboardists, gearheads, lend us your ears! Jay Graydon is back to tell us the story of the famous E Electric Piano which was a sought after session instrument in the early 80s and how it's been sampled and is now for sale. He also discusses a new Youtube channel is starting where he will share tricks of the trade and we hear stories about David Foster, Ray Parker Jr. his approach to production, guitars, perfect pitch, and a million other things. Get to know how the mind of a musical genius works!
July 15, 2020
Jay Graydon is one of rock's most wildly successful multi-hyphenates. He was a first call session guitarist in LA for most of the 70s with one of his biggest claims to fame being the solo on Steely Dan's "Peg". He also wrote huge hits for artists like DeBarge, George Benson, and Earth, Wind and Fire, formed the fantastic, but short-lived band Airplay with burgeoning mega-producer David Foster, and then he produced huge albums by Al Jarreau, Patti LaBelle and Kenny Rogers. Not to mention, if you've seen him in the great doc Hired Gun, you know what a funny, honest guy he is. In this loose and sprawling conversation, we cover all of this and much much more including his interest in magic and bowling. Stories abound!
THE FAMOUS E ELECTRIC PIANO - RELEASE JULY 10, 2020!
Message from Jay:
Hey everyone,

After 3 years of working on the FAMOUS E ELECTRIC PIANO sampling project, we are releasing the sample program this morning (7-10-2020) at 10am West Coast time in the states!!!!
You can hear a few demos on our specific page for the "E" - The Famous E Electric Piano as well as many demos on the - Orange Tree Samples page. BTW Orange Tree Samples is the company, which is selling our product and for the first two weeks, it is on sale, so please tell anyone you think would be interested!
There are some testimonials on both pages and there will be more demos and testimonials, which we will post, when other great players have played the E!
The main version is 96k 24 bit as that was the sample rate in which we sampled. The "E" uses Kontakt (version 5.7 or higher) or Kontakt Player made by Native Instruments. Kontakt Player is free and can be downloaded on the Native Instruments site.
Kontakt will re-sample as per your session in your DAW but if your session is not 96k 24 bit, "aliasing" is in play so, since we are perfectionists and want the user to have the best quality possible, we are also offering 3 other downloads for all sample rates below meaning 88.2k-24bit, 48k-24bit, 44.1.k-24bit as to eliminate "aliasing".
I have done tutorials (and more to follow very soon) showing options and tricks to get the "E" sounding as good as possible. You can find the tutorials here - The Famous E Electric Piano and like I noted above, there are more to come so please check back with us from time to time.
If you would like to hear some records in which I used the "E" on albums I produced (with David Foster playing), no doubt Spotify or the like has the following songs that feature the "E".
Mornin' (Al Jarreau from the album entitled, Jarreau)
Save Me (Al Jarreau from the album entitled, Jarreau)
For You (Dionne Warwick from the album entitled, Friends In Love)
There are so many other songs in which I used the "E" as well as other artists!
I always say any electronic instrument is as only as good as the weakest component in the chain. In this case, obviously quite by accident, there are no weak components!
The odds are good all of you know of this instrument that was manufactured by Fender but we are not allowed to use the name since after the designer, "Harold" (again, we can't mention his last name) passed away, some person copyrighted the name and is suing anyone who uses the word! (What a strange situation for someone to do that). So Harold was told this instrument was the best sounding of all of the (word we can't use) built, he found George and went to his home to hear this electric piano. After doing so, he told George it is the most beautiful sounding (the word again) he has ever heard!
On behalf of my partners George Mamalakis and Greg Schlaepfer, we hope you enjoy the "E" as much as we do!
If you would like to know how the "E" was discovered, it is a good story! Read all about it George Mamalakisí project page - The Famous E Sampling Project - JAY GRAYDON
RANDY GOODRUM - RED EYE!
My JaR partner Randy Goodrum has recorded a solo album and I must say it is outstanding on all levels!!!! It is called Red Eye and here's Randy's website -
Randy Goodrum - Red Eye
- if you are interested in purchasing.

June, 2020
THE FAMOUS E ELECTRIC PIANO IS ALMOST HERE - UPDATE!
Message from Jay:
Hey Cats,

FOR YOU really does show the beauty of the E.
No Phase 90 as the effects are limited to what Kontakt has.
The release of the E is literally a few days away! NI is doing a quick check and then we will release!
I am going to do a video tutorial in a few days to make it easy regarding navigation and will note important stuff, but this video wonít be posted until the day of release! This video and others will be posted in a new YouTube channel, which my PA Kerstin will set up. We will keep you posted as to when this new channel is set up and cleared.
Back to Kontakt (the program runs in Kontakt and Kontakt Player. It requires Kontakt 5.7 or higher!
There is another company that claims to have samples the Famous E but that is not true! That program has 5 velocity layers and ours has 18!
The other company did not rebuild the Rhodes and left in all kinds of clanks and bad mechanical problems! The first thing to do with any vintage instrument is to get it sounding as it did when it was new, which is what we did! This project took 3 years as we are all perfectionists!
I think there will be a discount offer for the first 2 weeks only so if interested, please check back with us every day! Also, please pass the word along as that would be most appreciated!
A few more things to note for now. All of the choruses are great and one is a special design we did called Logical.
Back in the day, I asked GML EQ, which is the best analog EQ ever making the E sound so delicious!
Since the Kontakt EQ and effects are not very good (they really need to update their plugs as old and the EQ sucks), I will note in the tutorial what I am using to record as to plug in EQ.
In closing, the best Rhodes ever is back and everyone will love the instrument as much as me and my 2 partners on the project.
Orange Tree Samples is the place to buy the E and Greg (the owner of Orange Tree Samples) is a genius as to his coding!
THE FAMOUS E ELECTRIC PIANO IS ALMOST HERE!
Message from Jay:
Hey everyone,
The Famous E Electric Piano will be released in no more than two weeks and more than likely even sooner!
There is no doubt this is the best Fender Rhodes ever! Harold Rhodes once came to GEORGEĎs house (GEORGE MAMALAKIS owns the E Rhodes) and Harold said itís the best Rhodes he has ever heard! No doubt he has played and heard hundreds if not thousands of Rhodes!
Note that as soon as the E is released, I will do a video tutorial on the way I approach the settings along with tips and tricks that are important.
You may want to listen to the Al Jarreau track MORNINí from the Jarreau album self titled JARREAU. Most all the tracks that have Rhodes are great examples of the sound, such as the song SAVE ME, which shows the absolute beauty of the Rhodes in the intro.
Another classic song with the famous E is from the Dionne Warwick album FRIENDS IN LOVE. Listen to the first track - FOR YOU - as that once again features the Rhodes big-time!
As soon as the E is available for sale, we will post and note the link to Orange Tree Samples. I think for the first two weeks only, there will be a discount. That is the last I heard so I bet that will be the case.
Orange Tree Samples is the company we partnered with and our partner GREG SCHLAEPFER, who owns the company, is an absolute genius writing code that was extremely important.
Here below is a message from George Mamalakis.
----------------------------------------------
Hello Everyone from George Mamalakis, owner of the E Rhodes and the E Model Rhodes website.
All of you have contacted me in the past with questions and comments regarding the E Rhodes. And most of you are aware that I have been working in collaboration with Jay Graydon and Greg Schlaepfer, owner of Orange Tree Samples, to produce a virtual version of the E Rhodes. Most of you have also asked to be notified when the sample library will be released, and that is why I am writing to you at this time.
I am thrilled to announce that The Famous E Electric Piano sample library will be available for purchase before the end of June from Orange Tree Samples. I have updated my E Model Rhodes website with a special page entitled "Project Update" where you will find a very comprehensive overview of the library. i have included graphics of the User Interfaces with descriptions of the controls and settings as well as audio demos of some of the preset sounds that will be instantly available when you open up the library for the first time. There are 15 demo tunes representing the 15 "factory" presets which I have created. When the product is released, it will also include 15 "factory" presets created by Jay Graydon and 15 created by Greg Schlaepfer. These 45 presets will, of course, include many versions and enhancements of the sound that made the E Rhodes famous but will also include presets that illustrate the wide range of tonality that the E Rhodes, and now The Famous E Electric Piano are capable of. A special surprise treat is a recording of Al Jarreau's iconic tune Mornin' produced and performed by Johan Landqvist of Sweden (along with friends on bass and drums). We thought it would be a surefire way to demonstrate that The Famous E Electric Piano is truly the virtual equivalent of the E Rhodes.
Please feel free to contact me with any questions and I promise that I will notify you the minute that we know The Famous E Electric Piano is released and available. (Please let me know if you do not want to be contacted.)
I have been privileged to own the E Rhodes since 1985 and now I am so excited that I can share its sound and magic with the world!
All the best, George Mamalakis
Click here to go to the Project Update page.

May, 2020
MAY 2020 UPDATE!
Message from Jay:
Hey all,
as we know, things will never be the same caused by the pandemic! We need to stand united as to do whatever we can to get back to work so if anyone has ideas, they should tell the representatives in their country noting we need financial help from the government! Unemployment Benefits is a start but it seems musicians are left out on stuff like free loans and so on.
Musicians are clearly hit very hard as no live playing of any kind, no studio recording with multiple people in the room, films canít be made, and the list goes on and on! How are we supposed to make a living in this business? The only thing we can do is to do home recording with someone creating the basic track and then send the files around for overdubs. I am going to do a video on this along with many educational videos in technical land for Pro Tools and the like, guitar teaching, and more!
I am also going to do an instructional video as to teach relative pitch and how to practice. I have no doubt you will really love this stuff as I have been practicing relative pitch, since I was 14 when I found out I will never have perfect pitch so I wanted to get as close to perfect pitch as possible. That will be for sale via a new YouTube channel, which we will set up in a few months time. Yea, I already have an official YouTube channel for various stuff - Graydon/Olofsson - linked from my website - so this new second channel will be a subscription based educational club, and the relative pitch video will be for sale, but all of the other stuff will be for free! We will ask you to please sign up to my club for free (Jay Graydon and Friends) as to keep you informed of what is added as we go. You will also be able to request I do videos on certain subjects.
All of this will begin in a few months, but first I will finish the JaR 2 mixes and we will also be ready to finally launch the first version of The Famous E Electric Piano Sampling Project in just a few weeks.
In any case, enjoy this video my PA Kerstin created on an arrangement I did.
When I was in Japan promoting my album, "Airplay for the Planet", I was asked to do a video for a major TV show. They asked that I play the "Star Spangled Banner" starting with a melodic chord melody rendition and then break into a Jimi Hendrix thing. I spent a few hours in the hotel working out the chord melody part. When I got back to L.A. the song came to mind and I finished the chord melody arrangement in full. I never thought I would record it, but when I worked on my BEBOP album, a few of my guitar pals said I should record and include this arrangement as well.
Further, since I could mix the BEBOP album leaving out one instrument, I did a few versions in that fashion and published one of them - the Minus-Guitar version - on Hal Leonard. So, the BEBOP album is also available as a "Jam-with-the-Band" book/CD package, which is a book with the sheet music and a CD with the music minus guitar as to play with the band with top-notch session players. The book/CD package lets you learn and perform 8 of my original bebop tunes, plus the Star Spangled Banner - a rare opportunity for young jazz music students to perform with a real bebop band and a fun way of keeping your chops up, while playing alone at home. After all, there has never been a better time than right now, to learn and hone your playing skills.
Here you will find more info on the BEBOP album and the recording process plus pics and another video. Both the BEBOP album and the "Jam-with-the-Band" book/CD package, are available on e.g. Amazon and other online stores, via my website. - Jay Graydon

April, 2020
JAY IN AL JARREAU DOCUMENTARY!
Jay is featured in the UNSUNG documentary about AL JARREAU Season 14 - Episode 16 (1 hour). Two showings back to back at 7 and 8pm. Here is a trailer for the show Al Jarreau Went from Local Jazz Singer to World Famous R&B and Pop Star in which Jay explains how they did it.
Jay's comments:
Hey everyone, I did an extensive interview for the Al Jarreau documentary that will be aired tonight - April 12, 2020 UNSUNG / AL JARREAU Season 14 - Episode 16 (1 hour). Two showings back to back at 7 and 8pm. It may also be available on streaming services like Netflix and Amazon but not sure so if you are in the states you can get access to the channel TV1 (328 on Direct TV). I hope the editor used some of the good stories.
I hope they use the part about the songs and alternate versions that have never been released!!!!
As most of you may know, Jarreau was a jazz artist and would have probably remained so playing jazz clubs. When I was asked to produce him, it was my goal to turn him into a pop, R&B, AC star, which obviously happened. The 4 1/2 albums I produced for him were his best selling albums with major Grammy nominations and wins such as POP ALBUM OF THE YEAR. Here is the list of Grammy nominations for the Jarreau albums.
Album Of The Year - BREAKIN' AWAY
Best Instrumental Arrangement Accompanying Vocals - MORNIN'
Best Instrumental Arrangement Accompanying Vocals - STEP BY STEP
Best Engineered Recording - for the JARREAU album
Producer Of The Year - for the JARREAU album
You will also find more info on the albums I produced on my website.
I would have continued producing Al, but a moron got in the chain that was a relative of the manager. This is the perfect example that music is fun, BUT the music business is not fun! Anyway, the moron story will be included in my autobiography. I will hopefully release the book at the end of the year! The book has many funny stories!
Regarding the moron story, Hereís a tip for anyone that is producing demos and ends up working as a record producer. Never let anyone in the studio, who is not directly working on the record! Tell people who will be in the studio to work, do not bring anyone with you! Itís a job, not a hangout! That reminds me Yoko should have had the sense to not go in the studio when recording as no doubt the other cats in the band were bugged! If you want a band to break up, this will surely help speed up that process. (g)
In any case, I bet the documentary will be good as I really liked the beautiful lady who interviewed me! She is very intelligent and knew the questions to ask! I hope the editor included the best stuff from all people who were interviewed!
Iíll be watching with you! - Jay
JAY GRAYDON MUSIC NOW ON AMAZON!
CD Baby has decided to retire their store as of April 2020, so to purchase Jay's music please go to our pages at AMAZON instead.

March, 2020
KEITH OLSEN PASSING!
A message from Jay:
There is a bonus of being a studio musician when the musician is also a recording engineer such as in my case. I would look at how engineers set up microphones on drums and all the instruments. During playbacks, I would look at the recording console to see how the engineers set the equalization, the outboard gear they patched in such as compressors and so on.
A few engineers stick out as the best of the best and KEITH was one of them! I would always ask engineers questions when I liked their sound.
KEITH was one of the best I have worked with over the years and when I asked him questions he was always glad to pass along his information. When I built my current home studio, I asked him what would be the best way to position the drums, meaning on the floor or on a riser. He said a riser is much better because itís not making direct contact with studio floor if using rubber on the drum riser. I took his advice and had a drum riser platform built with rubber on all the wood that was touching the floor.
We stayed in contact over the years and shared information and always learned from each other!
Anybody I know would agree with what I had noted regarding his work! KEITH was also a very nice guy! He is surely going to be missed by many people! The best news is the records he engineered and produced stand the test of time! - Jay Graydon
PLEASE SAVE THE SONGWRITERS!
Hey everyone, we received this image below from NMPA in the mail today with the caption below ...
"Songwriters: Spotify and Amazon are taking you to court on March 10. They are appealing your 44% raise. Tell @Spotify and @AmazonMusic to #StopFightingSongwriters!!!"
PLEASE JOIN THE CAUSE TO SAVE MUSIC AND SHARE THIS ON YOUR FACEBOOK PAGES, BLOGS, TWITTER, INSTAGRAM, AND ELSEWHERE APPROPRIATE!!!!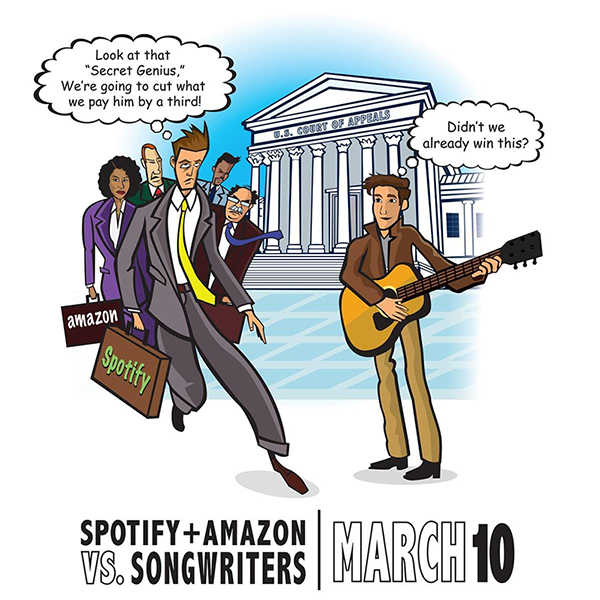 February, 2020
JAY GRAYDON AND DAVID FOSTER IN THOUSAND OAKS!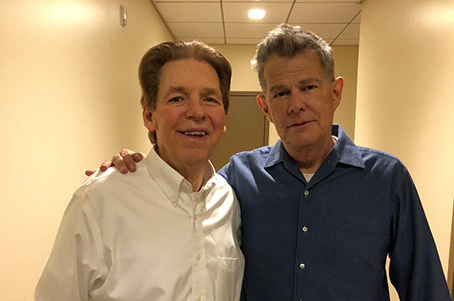 Photo © Denise Marie Luko 2020. All rights reserved. (click on the pic to open up a larger image)
Jay Graydon and David Foster having a blast backstage at Thousand Oaks Civic Arts Plaza, on January 23, 2020, when David performed together with his wife Katharine McPhee and a few other artists, during his current concert tour in the States, titled "An Intimate Evening with David Foster - Hitman Tour".
Joining them this evening were Denise Marie Luko, Bill and Tamara Champlin, as well as Rune Olsen and a visiting delegation of Norwegian fans running a new Facebook group - TWP The Westcoast Planet - for the "True Believers". Check it out!

January, 2020
JAY GRAYDON IS BACK ON INSIDE MUSICAST!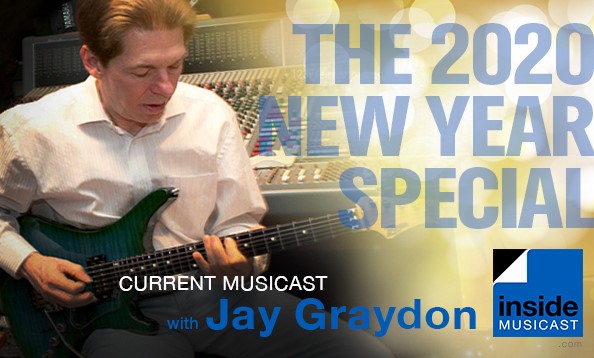 Kick off the New Year with a brand new interview with Jay. It's been ten years since we last had him on the show, so there's a lot of ground to cover, including updates on the new JaR album, the 'E' Model Rhodes project, how he became nocturnal, and several other topics. Jay even discusses a few of the guitars from his collection that he's wanting to part with.
You won't want to miss this lively chat with Jay Graydon on Inside MusiCast!

October, 2019
HAPPY BIRTHDAY, JAY!!!
Toshi Nakada (Cool Sound) posted this message on his Facebook page:
JAY GRAYDON Special Book, in stores on October 8th!!
Sorry for being written in Japanese, but this book covers his whole career!!
The title of the book is "Jay Graydon : a track record", which is issued from Shinko Music.
Jay-san provided us many photos, including almost of all his guitars & equipments, and helped us for completing his session works list.
(We've found several stuff which have no musicians credit, but Jay-san actually played on)
I wrote many articles of it, and if you would like to purchase it, please let me know via direct message.
I might help you.
Thanks, Toshi

August, 2019
UPDATE ON THE E ELECTRONIC PIANO PROJECT
After around three years, finally we are near the point of releasing the program! I figure no more than two months. I gotta tell ya when you hear that thing it's going to blow you away. It's definitely the best sounding Rhodes of all time, not even a close second. The full story will be noted when we release the product. - Jay

July, 2019
JAY SHARING SOME THOUGHTS ON MUSIC AND MATH
Cats, check out the link below as what is interesting is the math and how our ears are tricked!
Pass along the above and the following if you like, as I bet there are many stories regarding "Ghost Notes" and other strange sonic anomalies!
"Ghost Notes" within a mix!
That got me thinking about another subject as when mixing, no doubt you Cats at some point over the years have heard a strange "ghost note" created by harmonics of two or more instruments. The first time I heard this, I set up a locate spot a few beats before the problem as to quickly start the test over and over. I muted an instrumental track. If that did not make the ghost note go away, I un-muted that track and muted another and so on with all possible combinations of muting and soloing tracks until finally finding what caused the ghost note. Then I started moving the level down in 1 dB intervals on one or more of the tracks until getting rid of the ghost note. If no automation, manual moves needed to happen when recording the final mix to the 2-track machine.
With Pro Tools and the like, much easier to fix with a quick automated downward level ride on one or more of the tracks responsible for the ghost note.
Over the years, I seem to remember this happening 3 times and I seem to remember one ghost note was caused by 3 tracks. Not sure if any ghost notes were caused by the drums as part of the equation.
I wonder if any records were released with the ghost note as part of the mix sounding like a major clam? (g)
Obviously with Pro Tools and the like, much easier to fix with a quick automated downward level ride on one or more of the tracks responsible for the ghost note. Also, more options such as changing the pitch very slightly on one of the tracks using Melodyne.
Later Cats, Rake

June, 2019
IMPORTANT MESSAGES FROM JAY AND GREG MATHIESON!
Jay's lifelong friend Greg Mathieson posted this below on his Facebook page on June 19, 2019. It is a very important message, which sadly captures the essence of the music business of today. With Greg's kind permission, we are reposting his Facebook entry here below, but first Jay's comments on this situation:
Jay Graydon:
Hey all, the following was posted by one of my best friends, Greg Mathieson. His thought as to trying to eliminate free music makes sense when noting something like people will buy a cup of coffee at Starbucks (probably 4 to 7 bucks) but won't pay 99 cents for downloading a song.
Thankfully my era was the last in which, songwriters, record producers, and recording artists made a good living as to royalties. My royalties have dropped big time starting when free music became something people expect and think is OK! Spotify is a total joke as let's say a song gets 1 million plays. The total royalty is just under 5,000 that is to be split with the record company, writer, and producer! When the new copyright law came (after near 100 years of no updating), Spotify filed an appeal! If the record companies and artists pulled all of their music from Spotify, they would go from millions to out of business in one day, which they deserve sucking up all of the advertising monies with very little consideration to the people that created and paid for recording the music!
Now to the main point. Why would anyone want to be a musician, etc. in this era as it is next to impossible to make any money is what is left of the music business! I worry about the young generation as such musicians, etc. must have a day gig to survive instead of a shot at being paid what we were paid!
There is only one way to pull this off, which is they must unite as to stopping people from file sharing and ask they pay for the music as we all did before Napster! It's all up to you so please spread the word to everyone you know! Also, if people stopped using Spotify and the like, those blood sucking vampires would either charge the proper rate to users per play and pay royalties like record companies and ASCAP/BMI pays!
(The musician's union is powerless and hardly any musicians sign up to the union anymore for obvious reasons. The union pension fund many of us old guys paid into, is about to take a huge drop as to our retirement checks! This will really affect the musicians who can no longer get work and can't play anymore. I have good friends that have debilitating medical issues who need their pension monies! If the government steps in to help, they will have total control of how much of a cut will take place and the word on the street is it could be half!)
It's up to you or things will only get worse!
How about someone starts a FaceBook conversation as to hopefully go viral. You may want to note stuff like some people think it is OK for them to get music for free as I am just one person. Even worse is people simply expect to get music for free not even thinking that doing so is causing people a huge loss as to income! It's like taking money out of the people's pocket that created the music!
After all of that, I know most of you that like my music have bought CD's or album downloads of my recordings and I thank you from the bottom of my heart and I am very proud of you respecting this is what I do for a living!
So check out what Greg wrote as to this subject along with the bootleg videos of his gigs that people post stealing the music. The story about Vinnie is major proof of how pissed off he is regarding stealing music!
Your musical pal, Jay
***
Greg Mathieson:
I have to get one more thing off my chest. It's a little negative so if you don't want to read it STOP NOW!!!
I know that there was some illegal recording of the gig last week and that's not what bothers me because that gig/party was a one-off. That band might not ever happen again. Or, maybe it will happen in in 10 years for the 60th B-Party.
The one that really hurt and effected my life was the the illegal recording of the band with me, Vinnie, Landau and Abraham Sr. You see we had planned to do our own videos so we could make some money. The music world has been turned upside down now. Everybody thinks that music should be free. WHAT'S UP WITH THAT? My royalties and publishing checks have gone down by 90%. Big bummer. (Now, I'm cool because I lived through the golden days of sessions, but I worry about the next generation of musicians). File sharing and protools has made it so there is no real session work anymore. Everyone is sitting in a room by themselves making records. I hardly ever do a recording session with live players in a studio with all the cats there in the same room. I THINK WE'RE LOSING SOMETHING! (I have a plan about this but I'll tell you about that next month when I'm ready).
So ... some cat comes into the club and illegally records the Vinnie band right behind Vinnie and posts it all over you tube. Vinnie hits the roof!!!!!
Long story short ... Vinnie will never ever! ... do you understand the words "never ever" ... play with me at the Baked Potato again! This cat ruined the band! The band brakes up. The band will never play again! THAT'S A DAMM SHAME!!! I miss that band……..DAMM!!!!!!
So you, Yea you!! ... you know who you are. Are you happy that you broke the band up? Did you ever consider the consequences of your actions? This is BS and I'm bummed and I miss that band.
Now to my Facebook friends. I know that you probably give to a charity or to your church or maybe help out out a friend. Next time you down load a song for free ... instead think about your local musicians. Go to iTunes and pay $.99 or $1.99 and support your local musicians. You pay way more than that at Starbucks!
GROOVE HARD
GREG
THE RIVERA RAKE HEAD SOON SOLD OUT!
Hey everyone,
You people probably know Rivera makes a signature amp called the Rake Head. There are enough panels, circuit boards, and key parts to build around 7 more and that will be it forever! Check it out here!
In the era of amp modelers the amp market has almost over, which is sad as molders will never sound as good as an amp and takes the fun away since they don't have the punch and sweet warm mid range tone. The Rake Head was designed to allow the high E string not "thin out" when playing up high on the neck as the amp can be loaded with sweet mids obviously the mid range control! The Focus pot is so very cool as the more you add, the sound gets bigger when needed! The clean channel is sweet with more highs (for rhythm) AND you can also use this channel for sweet distortion as well adding in the Ninga Boost!
When I played a few gigs at the Baked Potato a while back, my very good friend Dan Sawyer was there. Dan is an outstanding guitarist and he was doing studio work in the same era when I was doing session work. I love Dan's tone as he likes the sweet mids!
After the gig, Dan e-mailed me stating the following. "I have heard Larry Carlton, Luke, Landau, and the rest of the outstanding guitarists at the Spud (the nickname for the Baked Potato) and your tone is the best I have ever heard!" I thanked him big time and simply noted when Paul Rivera and I were designing the amp (we would test different circuits and tone circuits) that led to the final Rake head design so you should be telling this to Paul Rivera. (g)
When I power up the amp and play through it, it makes me want to play! In the past, when playing through other amps, they were OK but since the Rake Head tone is perfect for me, I play better for sure as things become effortless as I am never fighting with the amp (you get the drift).
The bottom line with the story is if you like my tone, it would be a good idea to buy one before it is over!
Your musical Bro, Jay

May, 2019
PAST TO PRESENT - THE 70s - REMASTERED!
I just remastered Past to Present - the 70s and as usual, the incredible Fab Filter plugins and some others as well allow so much flexibility! This album is interesting as it is an adventure through my history leading up to the point of before becoming a 1st call studio guitarist up to the point when I made the move to producing and writing. - Jay
Read the full story about the making of the album on this page.
Here is a video featuring Jay performing one of the songs in a different version than the one on the original AIRPLAY album.

April, 2019
BACK IN STOCK!!!
Jay Graydon All Stars - 20th Anniversary Edition - 4 DVD Box Set
The Region Free 4 DVD box set Jay Graydon All Stars - 20th Anniversary Edition is now available at Amazon! Check out our dedicated page for Jay Graydon All Stars - 20th Anniversary Edition with many cool photos from the the band reunion at Garden Rake Studios, 20 years later! Watch the trailer and read Jay's comments about this 4 DVD box set ...
JAY GRAYDON ALL STARS - 20TH ANNIVERSARY EDITION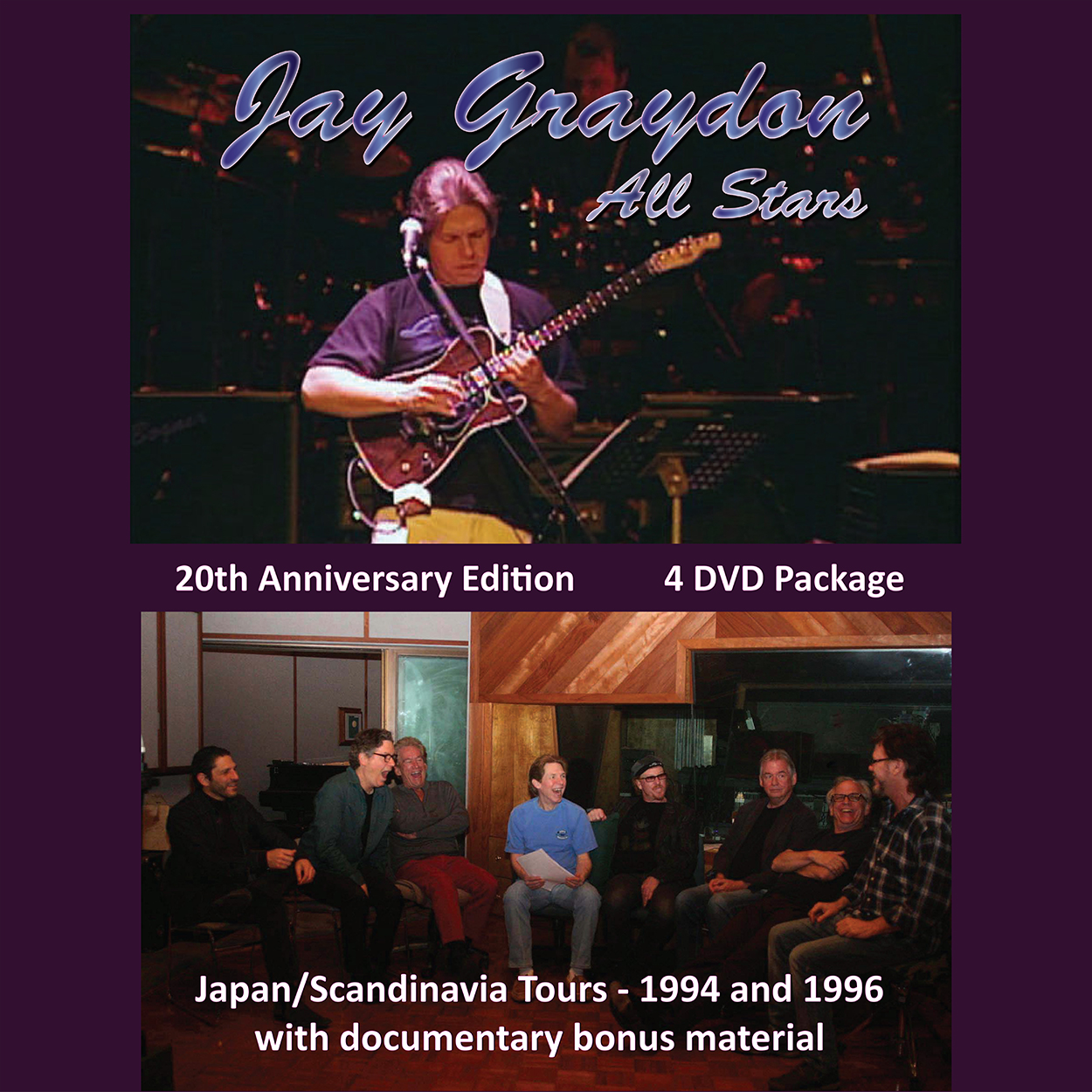 The Japan/Scandinavia Tours 1994 and 1996 with documentary bonus material
As noted above - A Region Free 4 DVD box set, having a few flashbacks from the 1994 and 1996 actual concert footage, a fun and informational band reunion hang at Garden Rake Studios 20 years later, filmed by Todd Homme, and a lot of bonus material, such as for instance a complete explanation by Jay Graydon on how to play his "Peg" solo, as well as a very cool jam session in Jay's garden from 1989 with great musicians, including Steve Lukather, and so much more.

March, 2019
TRIBUTE ALBUM TO AL JARREAU!
Chris Walker - We're In This Love Together - Celebrating Al Jarreau
A musical tribute project produced by Chris Walker & Larry Williams, with special guests Jay Graydon, David Foster, Jerry Hey, Dave Koz, Arturo Sandoval, Greg Phillinganes, Paul Jackson Jr., Gary Grant, Chuck Findley, Bill Reichenbach, and many other greats.
Jay's comments on the project:
Larry Williams is one of my best friends. Larry called me noting he was working on a Jarreau tribute album and asked me if I would play the guitar parts on Mornin', which I did. The track is great as expected and the bass player (Chris) in Al's band is an outstanding singer and can sound like Al to the point it's scary!
Larry was Al's musical director for many years and Chris was his bass player and background singer for many years as well. I just played the full album now and was amazed as to how the songs have developed regarding the arrangements over the years! Outstanding musicians as expected.
Well done guys! - Jay
The album will be released May 17 and is available for pre-order at Chris Walker's website and here below are the tracks and featured artists on the album.
Al Message
Mornin' feat. David Foster & Jay Graydon
Breakin' Away feat. Larry Williams
Roof Garden feat. Jerry Hey Horns
We Got By feat. Will Downing & David Caceres
Save Me feat. Randy Brecker & Larry Williams
We're In This Love Together feat. Regina Belle & Gerald Albright
Alonzo feat. Larry Williams
Agua De Beber
Not Like This feat. Gil Goldstein
Take Five
I Will Be Here For You feat. Kirk Whalum
After All
Flame feat. Arturo Sandoval
Spain feat. Larry Williams
Phenomenon
Jarreau feat. Dave Koz & Rick Braun

January, 2019
SIX STRING SHOW feat. LEE RITENOUR!
As you know Jay was one of the guitar judges in Lee Ritenour's Six String Theory Competition 2018 and recently Rit hosted a great evening of music presenting the winners of his 2018 Six String Theory Music Competition at the Catalina Jazz Club in Hollywood.
It was an awesome night and Lee Ritenour was jamming with the winners - some incredible young talent from around the world! Jazz, Blues, Rock, Classical.... they covered it all!
Check out the winners list 2018 on Lee Ritenour's Six String Theory website.
Jay's comments on the gig:
Rit, Wes Ritenour on drums, the main bass player and keyboard player are contest winners (I think) and with Wes, they played with all the other guitarists, which all were outstanding! The winners are noted on the site for 6 string theory.
The classical guitarist winner is a chick who is unbelievable!!!!
Guitarists of my era that were there - Mitch Holder, Tim May, Thom Rotella, Pat Kelly. Me, Luke and Steve Vai sat together with our chicks (or wives). My voice over 1st call pal Scott Rummel sat with us as well. I got Bill Evans in but did not see him as too much was going on and just until the gig started, I was in the band room meeting the winners and hanging out with Rit, Luke, and Vai.
Everyone played great and good to see my pals Rit, Luke, Steve Vai, Tim May, Mitch Holder, and Thom Rotella. Foz was there with Chris Botti, but I did not know until the next day when he called me. He saw me split with Scott and DML (about 15 minutes before the gig was over) and unfortunately I did not see him in the crowd. The gig was fun!
Here below a few pics from the gig. (Click on the mini pic to get the full size).
Photos © 2019. Denise Marie Luko (aka DML). All rights reserved.

Guitar wizards Jay Graydon, Steve Lukather & Lee Ritenour meet at the Catalina Jazz Club, January 28, 2019.

"Hey bro, let me look at you!"
Old friends and guitar legends Steve Vai and Jay Graydon take
a closer look at each other.

Jay Graydon and Steve Vai together with outstanding classical guitarist winner -
Hedvika Svendova.

"... and you won't believe what happened next ..." Luke and Rit are having fun sharing stories from their tours.

Hedvika, Dave Rosenthal (music director and keyboardist for Billy Joel), Luke, Vai, Jay, and Rit.
Carmen (Rit's wife) to the right.

Another monster line up of musical talent! Guitar virtuosos Lee Ritenour, Jay Graydon, Thom Rotella, and Tim May.
Photos © 2019. Denise Marie Luko (aka DML). All rights reserved.

For previous news entries, please check out the News Archive.