I have wanted for a long time to give you this wonderful legendary guitar solo

THE ENDING
and now is the time. It is a heavy download, but it sure will be worth the wait.
The transcription is made by a Japanese fan and is pretty huge, so to speed up the downloading it is published in three parts. As with all of Jay's playing the feeling is essential to this solo and is unfortunately not possible to render in print, but when you listen to the sound bite you will get the idea.... have fun!
Jay's own comments about this solo:
"The solo is one of my favorites. One drawback regarding producing records is that very little time is spent playing guitar. Since the Kipner record was one of my first productions, I had been playing full time up to the start of this record so my chops were still up."

Time for more work, guys! We bring you the original notation of "Nothin' You Can Do About It" as written down by David Foster and Jay. As you can see the working name was "Nothin' You Can Say About It" and Steve Kipner wrote the lyrics. For downloading reasons you will get the whole song in two parts since it is so huge. So here you will find the first part and consequently here the second part .
And you will find a supporter interpretation of the solo in this section.
I take it you would like to listen to the real thing as well! So here goes - Jay playing his guitar solo on

NOTHIN' YOU CAN DO ABOUT IT

Having practiced on the "Peg" and the "Twilight Zone/Twilight Tone" solos for a couple of months, I guess you have grown hungry for another one of Jay's unique outstanding solos, so we bring you Jay's own original handwritten wire choir chart of "It Will Be Alright". Now, if your browser cannot interpret and display Jay's notation distinctly enough so that you can see it, you also have another option - a digitized version of the solo.
Handwritten guitar solo notation published courtesy of Jay, thank you! Digitized version made by Peter Olofsson - thanks for your help, Peppe!
And here are some clarifying comments from Jay on how to play this wire choir solo:
The phrasing is very important for this solo. I will try to describe. Bar one. The first two notes start on the "D" string. F to Gb is a slide or slur (no pick). The third note Db, is bent up from C in a "grace note" fashion. The release of this bend is to C without picking. Ab to Bb is slid or slurred. The Gb is bent up to F like the Db was and released in the same fashion but is played with the first finger (on the "B" string). The Db to Eb is slid or slurred. The Bb is bent up from Ab and returned to Ab at the beginning of bar two.
Regarding bar two , on the "B" string, the Ab on beat two is ripped into the Eb. The Eb is slurred to the F. The Bb is slurred to the Ab. The Eb (B string) is slurred to the F and then slurred back to the Eb.
Regarding bar three , the C is bent up to the Db and then bent down to the C. The Db is bent up from C and then bent down to C.
Regarding bar four , the C is a fall that was later sent to a delay line for "in time" repeats. After hitting the Ab, pull off to G and then hammer on the Ab. Same thing with the Db to C and back to Db. On beat four, all notes are played with the 4th finger since way out of position.
Regarding bar five , the G is slurred into the Ab. The F is bent up from Eb and is bent down to Eb. The C is bent up from Bb and is bent back down for the Bb. The Bb is bent up from Ab and then bent down.
The phrasing would be the same regarding the harmony parts compared to the lead. - Jay
And now.......(drum roll........) Jay's handwritten notation of the wire choir of "It Will Be Alright"!!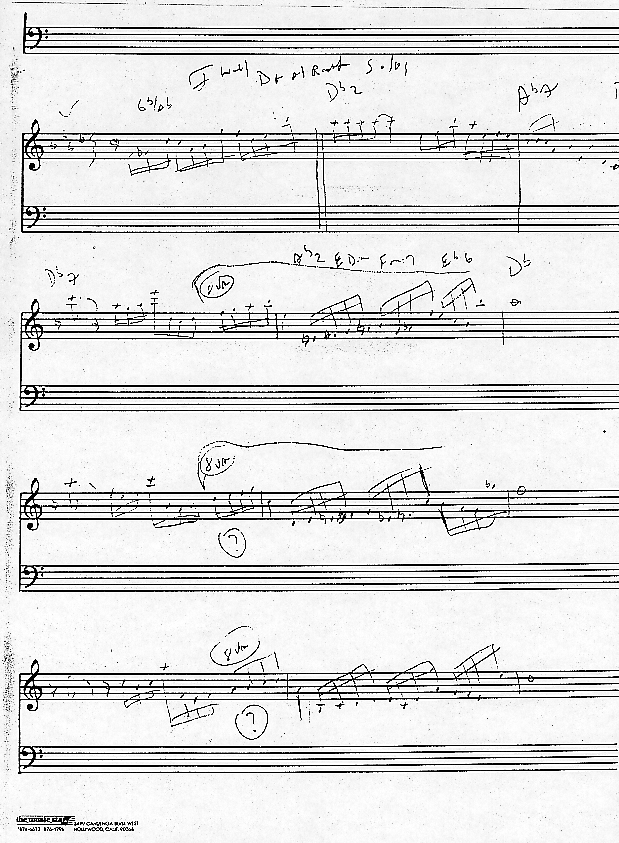 Having trouble seeing this? You might want to try the digitized version then.

Now if you are doing this right it will sound like the sound sample below (well, more or less)..... Anyway, for inspiration ..... enjoy the original - the REAL thing!!

IT WILL BE ALRIGHT the three part harmony solo - the wire choir.

Since you by now (November 1996) are familiar with the "Twilight Zone/Twilight Tone" solo - (I hope you noticed that I didn't say "now you know how to play") - it is time for a new solo for your musical education.

How about the famous PEG solo from the Steely Dan album AJA? I guess all of you already know that this guitar solo by Jay was the only solo that could please Donald Fagen of the Dan. Seven or eight other guitarists tried in vain!In this video Jay explains how the PEG solo should be played.

In the recording studio with Donald Fagen and Walter Becker of Steely Dan when they go through the making of the song PEG and explain why Jay was their obvious final choice after turning down 7-8 other guitar players... "and then finally Jay Graydon came in and did it with no difficulty whatsoever" as Walter puts it. (Please note: Jay is performing on the soundtrack that Donald and Walter are playing here, but is not appearing in this video.)

Again, guitar notation published by permission of the guitar magazine "Guitar For The Practicing Musician".

Also, the quotation below is published courtesy of said magazine. Read the whole article on Steely Dan by Wolf Marshall in the 1996 October issue. Thank you, Jon Chappell, for letting me use this material!

The following is a reprint.

"Peg" is a classic case of summoning a specialist to get the job done; and, in this instance, summoning more than one. Jay Graydon was brought in by Becker and Fagen to solo over the quirky 13-bar blues - after numerous abortive attempts by regular Steely Dan "satellite musicians" and session stalwarts. He was a veteran of the Don Ellis band, Gino Vanelli and countless record dates, and had acquired a glowing reputation as an ace studio guitarist and solo specialist around L.A. Graydon was allegedly the seventh player to have a go at the section - they'd already been through guitarists Elliott Randall, Dennis Budimir, Robben Ford, Rick Derringer, Walter Becker himself, and saxophonist Tom Scott. According to Becker, Graydon did it without much ado. The solo was assembled in three major sections (the sectional approach was typical of Steely Dan's studio procedure by that point). It took four hours to actually record the solo, but three of those hours were spent, under the close direction of Becker and Fagen, searching for the opening phrase (see notation below). This was the tried-and-true Graydon hallmark of slid and bent doublestops heard at 1:47 - 1:53. The singular, chromatic open-string pull-off licks at 2:00 - 2:03 are also signature elements of his unorthodox style which happen to fit the song beautifully. Of course, hardly anything was done by chance in Steely Dan music, and even the exploitation of a player's favorite cliches was subject to serious scrutiny.

Since this page has been a real slowloader on account of the huge chart images I have moved each chart to a page of its own. After all I don't want your computers to crash every time you feel like practicing on some quality music. So just follow this link and you will get to the guitar solo notation of "Peg".

One of Jay's supporters who is a guitarist himself has provided us with an analysis of the last bars of this solo. Check out the supporter transcriptions page for more info.

Earlier published guitar notation - the solo of Grammy Award nominated "Twilight Zone/Twilight Tone" from the Manhattan Transfer album EXTENSIONS. Not the easiest to start with, I agree, but so what? I take it you are not a beginner if you intend to start practicing on this and anyway, I cannot do much about it - this is how the man plays! He is also a co-writer on the song.

Guitar notation published by permission of the guitar magazine "Guitar For The Practicing Musician". Thank you for your kind cooperation and support!

This link will take you to the guitar solo notation of "Twilight Zone/Twilight Tone".

And this is how it should sound...

Twilight Zone/Twilight Tone as Jay plays it - the full song with wire-choir and all.

New solos will be added to this page every now and then, so keep hanging around for updates!

All written material, all images and photos in all sections of this website copyright © Jay Graydon/KEO 1996 - 2023. All rights reserved. Comments, suggestions, appreciation, corrections... whatever... talk to us.

Intro Page E-mail us!