I was on the other TV shows but my interest had switched to electronics and bowling. My father had a radio show on KDAY in the early 60's. Every Saturday dad would take me to the station and I would engineer his show. Dad would sit at the "guest mic" and I would read the "log" as to play the records listed as well as running the tape machines that were used to play the "spots" (commercials). I loved engineering the show!
My father was also a songwriter and had record deals from time to time. I would go to the recording studio with dad and watch the engineer. I bugged these guys for hours but they liked my enthusiasm so I learned so very much about recording at an early age. During that period, Santa Claus wanted me to have a mono tape recorder, mixer and 2 mics. I recorded a few local bands which was fun.
Bowling entered the picture around the age of 10 (seriously at 12) and this was all I thought about. I had the raw talent for the game and maybe would have reached the pro level but the discovery of the guitar at the age of 14 changed my life in a big way.
Jay was an unusual youngster. At the age of two he was still not walking but would sit and tell you, in paragraphs, his reason for still crawling... as fast as some racing cars. Other kids his age were running but they couldn't give you their first name.
It wasn't long after he began talking that he exhibited a strong interest in anything mechanical. He loved vacuum cleaners, especially those with many attachments. I recall our taking him to parties with us and his first question to the host was always, "Do you have a vacuum cleaner". If the answer was "Yes" Jay would be quite content to go into a separate room and proceed to begin interchanging the various parts and that would keep him happy for hours.
Betty White had an afternoon talk show in those days and I sang on the show five days a week. I would often take Jay with me. The fact is that I took him just about everywhere I went. On one occasion, at the Betty White show, a salesman was "pitching" (demonstrating) a particular vacuum cleaner. Directly in front of the set from which Betty operated, Jay was on the floor with the vacuum feverishly interchanging the parts. The camera kept shooting away from Betty and back to Jay. He was a riot.
As he advanced in age, but still at a very tender period, he put together a repair kit and started fixing the neighbors' TV sets. I would guess that he was about 5 at that time. He also set up a microphone, which I had given him, in his bedroom and would broadcast through the speaker of our TV set in the living room. I recall approaching the stereo set one evening and asking him if it would work when I turned it on. (I noted that he had been doing something with it and it seemed to involve an electric fan at the other end of the room) . He replied that it wouldn't play music but it would blow out the candle about 15 feet away. He had wired the stereo so that the fan was directly in front of a candle across the room.
Jay was born with an incredible talent to deal with electronic apparatus. Nowhere in our family background can we find anyone of similar ability. I am a total waste in that area and am always calling him to help me with some of my equipment, which is as simple as that found in the average home. I am always amazed to see him at work in his studio, which has, I believe, some 48 channels.
But let me take you to back to a time when I was a discjockey on a 50,000 watt radio station, in Los Angeles. It was a day time station only and I was the morning man. Jay was 11 years old and he would go into the studio and, somehow, working with the transmitter, get the station on the air. In our broadcast studio there were 4 large turntables and one or two tape machines. The turntables were to play cuts from albums and the tape machines were primarily used for playing commercials. I would prop myself up on a chair in a corner of the studio and Jay would take over the controls. That meant operating the turntables, the tape machines and riding the sound levels. He was great and I had the gift of gab, plus my very own sound engineer. Jay loved doing it. He was in control of what was going out all over Southern California and he was all of ELEVEN years old.
In 1954 I did a one hour afternoon musical show on KABC TV, in Los Angeles, 5 days a week. After the show we would go to dinner and return to the studio which was dark...turn on the lights and repeat my entrance and a couple of songs. Jay, who was about 6 at the time, would man one of the TV cameras and direct me as I made my singing entrance and continued to move about the set. Of course, we weren't on the air but we both played it to the hilt. Not for my sake you understand but he really "dug it".
Before the Veltones were formed you played drums in a band, right? Was this the same band that later regrouped as the Veltones or was it a completely different band? Did you have to sack your guitarist when you became interested in playing the guitar or did he just pick up some other instrument?
The band was the beginning of the Veltones. Two guitars and drums. The guitar players were Dennis Kelly and Joe Lopez. We had our first rehearsal at my house, and after that first rehearsal, we decided to rehearse the next day. The guys left their guitars and amps so I started messing around with one. Within a few hours, I figured out the songs we had played that day.
Two weeks later, I was playing guitar and we hired a drummer named Doug Wagner. After a month or so, Bob Carrafield was playing drums with the band.
Three guitars and drums with all players doing vocals as well. In time, all guitar players were using "Black face" Fender Bandmasters (with outboard tank reverbs) circa late 1964. Two Fender sunburst Stratocasters and a Duo Sonic. Bob played a Ringo type Ludwig set. All the gear was so cool or at least we thought so.
The band played surf/pop/R&B. The R&B must have been hilarious!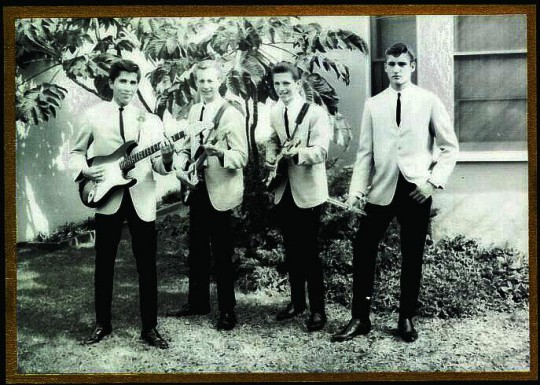 The VELTONES. Left to right: Joe Lopez, Dennis Kelly, Jay Graydon and Bob Carrafield.

Tell me more about your whereabouts during this time preceding the surf era!

I was a serious bowler before discovering music. If not for music, I might have become a pro bowler. I still follow the pro tour since I have old bowling pals on the tour.

For how long did the Veltones exist?

I am guessing about 2 years.

Did you make any albums?

No, but I wish.

Does any tape recording exist from that era? (Would be fun to add, if so...!)

We made one recording I guess in late 65. I had written a song with my mother (mom wrote the lyrics). The title is "BRING YOUR LOVE TO ME".

We booked a 2 track studio for 44 dollars including 4 acetates (reference disks which will wear out fast). We recorded the above song and some cover song I do not remember. I forget to mention that we asked our friend, Jimm Allan to play bass on the session.

Now for our first recording session. We recorded the basic track (no vocals) "mono" on one track. Within a few takes of both tunes, time to overdub the vocals. This was a little scary since we were not used to earphones when singing. Check the input on this subject in the Jay's Hints and Tints section, under the heading "Save Your Hearing!"

Anyway, I was having the time of my life!

The sad thing is that all acetates are lost and the 2 track master was in the trunk of a friend's car that was junked. I was young and stupid regarding archiving for the future.

I do have a recording of a few songs from the next band which was around 1966. Very humorous! My vocal on James Brown's "OUT OF SIGHT" is extremely embarrassing. I was the epitome of a white guy with no idea what real R&B music was about.

This brings up how I learned to "feel" the R&B stuff. When in college, I got a call from the keyboard player (Bob Hogins) in the "7 SOULS". Bob and I were in a band that played for the marines during Viet Nam. This is another deep story.

Anyway, I auditioned for the gig and got it. The band had four black players and three white players and the band giged at a club in the heart of "soul town". White people do not hang out in this area so we were the only white people for miles in any direction! I soon realized that since I could play, I was accepted by the black audience. The audience was "on fire" meaning the room was filled with groove energy. People dancing there ass off and clapping on the back beat with a great feel! This gig taught me so much about "feel". The drummer was very "funky" (meaning his groove was burnin') which taught me how to play rhythm guitar "16th tilt".

How did you combine school and playing music? Did you like school?

I liked school for the most part. When in high school, I took as many music classes I could. The teacher, Robert Rose, helped my growth in a big way. He taught me how to arrange for a "big band" which is 5 saxes, 4 trumpets, 4 trombones and a rhythm section. I was not one to study except for music so I skated along with c's and b's. All music classes were A's.

How often were you out on gigs? Like once a week, twice a week...

The Jr high and high school gigs were about twice a week. My mom worked for "Orchid paper products" which led to day weekend gigs for super market openings. All the guys in the Veltones (including me) had one major gripe with these gigs. We were called "THE ORCHIDS". WE WERE THE VELTONES! So very humorous! These gig paid 5 dollars a man. We typically played dances or parties at night after the super market openings.

The VELTONES has the honor of winning a battle of the bands at Sunland Park, Ca. When rummaging through stuff a while back, I found about 20 VELTONE business cards. Very humorous and memories for days.

Did you ever play outside the Valley?

We played all over the place but mostly the valley.

******************

Recently Jay had a talk with Eric Sluyter, the bassist who joined "The Veltones" just after the picture above was taken. The following is e-mail correspondence between Eric and Jay...

[Jay] Man, the last time I saw you was about 40 years ago!!! Wow!!!

The pics I have were from the first gig the 4 of us played and only a few memories came to mind when noting details to my personal assistant/webmaster. Not including you was an oversight since I had forgotten the full history.

I shall remedy that now stating information to my personal assistant/webmaster as to include you in the history.

[Eric] I realize this is asking a lot - should you *happen* to have a photo or so, picturing me with "The Veltones"/"Men from M.U.S.I.C.", I'd *really* appreciate a jpeg or similar facsimile.

[Jay] Sadly I do not have pics of all of us in the band. When we were young, if we had any idea that reflection is fun, we would have had pictures taken!

[Eric] rehearsing in a Burbank dance studio; we shared it with, or were occasioned by, another band comprised of young men a few years our senior.

[Jay] The band you speak of was "The Marauders". Great guys and they helped my musical growth in a very big way!!!

If you remember, as to use the dance studio, we occasionally spent a day totally cleaning up the place. Janitorial work in trade for a place to rehearse - more than a fair deal.

[Eric] the gig we played must have been my alma mater, Van Nuys Junior High. I did a google search on that name, hoping the school itself had a web site with a contact email where I might inquire about old photos (of Veltones) that the staff might have taken. That search was fruitless, but it did offer some leads that anyone with the will and time might follow up on. Then again, there's the phone...

[Jay] That sounds familiar. I remember the gig was fun.

[Eric] I recall "The Men From M.U.S.I.C." theatrically marching up to the stage, shouldering their guitars like so many combat soldiers.

[Jay] Wow, we had a new band name and performed a slight bit of choreography. We had fun!!!

[Eric] and finally, I recall your mother (an attractive blonde lady, wasn't she?), offering me instruction in the proper method of shaving ("fill the basin with hot water; don't shave above the cheek bones")! I think I was spending a pretty good deal of time at your house, back then.

[Jay] That sounds like my mom alright. A thinking educator.

[Eric] Short of using hyponotic regression techniques, I think I'm tapped out.

[Jay] Here's one I just remembered. I was a serious bowler and a good bowling friend (Jeff Morgan) worked at Kirkwood Bowl at a very young age. About 20 years ago, Jeff and I were once again bowling together in league (both averaging around 210 over a few years). Jeff mentioned that "The Men From M.U.S.I.C." played the 20/20 club the floor above Kirkwood Bowl (I assume 1964 or 1965). He mentioned we made 89 cents for the gig (the door). Jeff stated I asked him for change as to split up among the band. Funny!!!

***************

More nosy questions about Jay's early years as a musician...

How did you learn to play the guitar? By yourself, from a book or did someone teach you?

All of the above. BTW, every guitar player is a teacher to another guitar player. The other night, Bobby Cochran came by the studio and we video'd each other playing licks and songs. The camera was positioned to look at the fingerboard and hands.

Why did the band split up? Did you get offers from other musicians or did you just get fed up with it or "outgrow" one another?

I was the leader and was growing faster than the other guitar players. Bob and I kind of drifted into another band called the GO GO's. Not the band that you may be thinking of. The split up was friendly with no problems. We were shaping our lives and different interests were happening.

Are any of these musicians still in the music business as performers or otherwise?

Bob may still be playing drums. I have not seen him in a few years.

Did you write/co-write any songs during these days?

Just the one with my mother. I did not yet get the hint to write.

What kind of music did you play during your teens apart from the surf stuff? Rock covers, own material etc.?

I got into jazz but was not very good. My strength was pop and R&B. My rock playing was fair.

How did the Beatles affect your music?

The Beatles changed my life! The funny thing about the Beatles is they would be fresh now if never heard before. Melodies, chord changes, arrangements and lyrics that are outstanding. John Lennon's vocal sound and style is ear candy! . Paul falls into the same category as well. We know that George did not play all of the guitar licks (melodies, solos or parts). Even so, he came up with a lot of the great licks as well as writing a few classics.

Back to the guitar parts and solos. Between John, Paul and George and the occasional outsider, the stuff is so creative and not over done. Steely Dan is the only other band with so much guitar diversity meaning so many styles and sounds with out copying anything from a past song of their own. The Beatles changed everything from that point on.

How old were you when you started playing with Don Ellis and how did this happen?

In 1968, when in college, I was in the stage band which is typically called a "big band" using "jazz" jargon. The instrumentation was guitar, bass, drums, piano, 4 trumpets, 4 trombones and 5 saxes. The players were outstanding and many are still playing full time in the music business.

This band was loaded with fine players since the Viet Nam war was I full force and the logical way to stay out of the army was to maintain a full class load as to achieve a 2S military status. Anything other than a 1A classification eliminated immediate "draft" into the armed services so many great players needed to stay in school as to not shoot guns at innocent human beings or get killed in the process!

During this time frame, Don Ellis had a working big band with similar instrumentation and also had a "B" rehearsal band as to find young players to take the place of the "A" band players as they left the band. Glenn Farris (a great trombone player) asked me if I would like to audition for Don's rehearsal band. I did and within a few months, I was playing with the working "A" band. So much fun and a musical challenge!

Any tune you would like to mention?

The band was anything but commercial even for a jazz band! The music was odd time signatures i.e., 5/4, 7/4, and so many different meters! Humor was built into the compositions and performances. The one tune that stands out is TAKE 5. Don arranged this song in 4/4/!

What were you doing in 1968 when the student revolution happened? (Or maybe that wasn't a major thing in the States - more in Europe?)

Hating the war and playing music. I was in college as mentioned. Playing jazz (not very well), rock and roll, casuals (society gigs), R&B (Rhythm and Blues) and a few demo recording sessions.

When the prog music entered the scene - did you adapt to that music style (Bob Dylan, Donovan etc. you know, "talking" politics to music...)?

In that era, lyrics did not mean much to me. The melody, chord changes. solos, arrangements, etc. were all that mattered. As a young guitar, so much to learn so this was the focus, not the lyric message. Bob Dylan and the like were telling it like it was and I listened to the message but after a few times of listening to the songs, I was bored. Simple chord changes etc. So after saying that, in retrospect, I appreciate this music much more these days.

I think this period ended when you met David or....? This would be what year?

I met David in the early 70's when working a club gig. This gig was very musical! Maxine Weldon was the featured singer doing 2 sets a night and the band played 3 jazz sets and this was sooooo much fun!

So one night David came back stage and said something like you play good. I thanked him. David asked for my phone number and I wrote it down. A few days later, he called me for a record session. I think it was for Skylark. Not sure. Anyway, when we met, I told him I also did some synth programming so he asked me to bring my ARP 2600 as well as my guitar and amp.

I walked into the studio and set up my guitar stuff. Went into the control room and the engineer played the song. I said "who is the piano player!" The piano part was totally happening! It was obviously David.

So I played the guitar stuff needed and then set up the synth as to program sounds for David. This was the beginning of many years of working together!

By the way, I guess this was around 1973 or 74.


(to be continued.....so keep hanging around....)

All written material, all images and photos in all sections of this website copyright © Jay Graydon/KEO 1996 - 2023. All rights reserved. Comments, suggestions, appreciation, corrections... whatever...
talk to us.

Intro Page

E-mail us!