Jay Graydon Biography
Jay Graydon may not be known to each and everyone, but to all lovers of quality music he is known as one of the greatest guitar players and songwriters of all time in music history. Together with super producer/songwriter and long time pal David Foster he is also known to die-hard fans in Europe and Asia as the co-founder of "Westcoast Music". This music genre has its roots in the late 70s, and is also labeled Adult Contemporary Pop Music or AOR for short.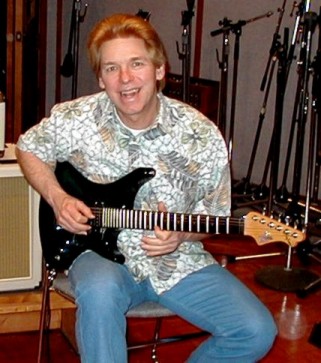 Jay Graydon at Garden Rake Studios
Between the late 60s and the late 70s Jay played on practically every "A" list session in Los Angeles acquiring a glowing reputation as an ace studio guitarist/ solo specialist on numerous albums with Barbara Streisand, Dolly Parton, Diana Ross, The Jackson Five, Cheap Trick, Christopher Cross, Ray Charles, Donna Summer, Cher, Joe Cocker, Marvin Gaye, Hall & Oates, Olivia Newton-John, and Albert King, just to name a few. It is almost easier to enumerate those artists he hasn't played with or produced or written songs for, than those artists whose career he has participated in.
His discography is massive and includes both fairly unknown artists as well as mega stars like Air Supply, George Benson, Al Jarreau, DeBarge, El DeBarge, Sheena Easton, Art Garfunkel, Manhattan Transfer, Johnny Mathis, Patti LaBelle, Lou Rawls, Kenny Rogers and Dionne Warwick, just to name a few. As a songwriter he has written an enormous amount of songs. Many of the more than 250 songs he has written over the years are included on gold, platinum and even multi-platinum albums. Check out the song catalogue (link in the footer) for more info on all the songs he has written over the years. Here you can browse through the songs that are registered at this point. He is writing many new songs in various genres such as pop, dance-pop, straight-ahead jazz, crooner style jazz, r&b, country, classical crossover pop opera (also known as popera) and smooth jazz.
Jay Graydon started his musical career by playing drums(!) but soon discovered what would be the love of his life - (and I am only talking about music now) - the guitar.
Jay Graydon has developed his own style of playing, letting the guitar sometimes basically explode in a technically perfect aggressive solo and sometimes bleed in close harmonies and intense feeling - really squeezing the best out of the guitar. Do you want to know what I mean? Just go listen to the sound bites on the pages "Listen and Enjoy!" as well as "Sound Bites". The links are listed in the footer below. You will also find sound bites at Amazon for the albums released on Sonic Thrust Records and you may get to those by clicking on the albums noted in the sidebar of this page.
Jay Graydon is a hard working guitarist, songwriter and producer. In 1979 he received a Grammy Award for best R&B Song "After the Love Has Gone" which he co-wrote with David Foster and Bill Champlin, and which became a number 1 hit with Earth, Wind & Fire. A new version is included on AIRPLAY FOR THE PLANET released on his own label SONIC THRUST RECORDS in 2002. The new version is performed by the outstanding former Chicago lead singer Bill Champlin. There is also an enhanced version of AIRPLAY FOR THE PLANET available, which is remastered at 96k in 2017.
In 1982 Jay received another Grammy Award for best R&B song "Turn Your Love Around" which he co-wrote with Steve Lukather and Bill Champlin. He has 12!! Grammy Nominations, whereof two turned into winners! Check out the page for "Grammy Awards, Nominations plus Other Accolades" - link in the footer. His first "own" hit album was AIRPLAY in 1979. This album is known as THE Westcoast Album! Together with David Foster and Tommy Funderburk he created a whole new sound concept - rock with ingeniously beautiful harmonies.
Jay handles the guitar following the "less is more" concept, playing with subtle intelligence and intense feeling as well as technical accuracy. He is maybe first and foremost known for two very special ways of playing the "one note mute rhythm guitar playing" like in Grammy nominated (Album of the Year 1981) Breakin' Away from BREAKIN' AWAY/Al Jarreau (246 K .mp3 file) and the wire-choir, like at the fading out of in the song "She Just Can't Make Up Her Mind from AIRPLAY FOR THE PLANET". Apart from the wire-choir you may also enjoy some deliciously harmonic solo guitar structures as well. The tone of his solos is warm with a long sustain. He tells you more about it on the Gear & Studio section of the site. You will find more wire-choirs and outstanding guitar solos on other sections of this website, for instance the "Play Like Jay" page or the "Listen and Enjoy" page. You will find the links to all of these pages in the footer.
This multi-talented musician is also a great singer. Just listen to Jay on the AIRPLAY album, where he is the lead singer of some of the songs, for instance "She Waits For Me"" from the album "Airplay for the Planet" available from Amazon and accessible via the sidebar. However, Jay often prefers to leave the singing to other artists he is working with in projects like e.g. PLANET 3 and AIRPLAY FOR THE PLANET. On the mp3 files the sound quality is reduced. Purchasing the "real thing", meaning the albums, will of course, give you top quality.
Jay Graydon works a lot with other artists as a producer, arranger, songwriter, engineer, playing guitar and synthesizer and more.... For more extensive information on his output you are invited to check out the HUGE discography. Like so many other great artists these days, Jay decided in 2001 to start his own record label - SONIC THRUST RECORDS to have total creative and artistic freedom in his song writing and producing profession. The first album on SONIC THRUST RECORDS is BEBOP which is a musical manifesto of the versatility of this multi-talented artist. This album is filled with new classy instrumental jazz played by top-notch musicians.
On the label page you will find more detailed info on all of the albums released on SONIC THRUST RECORDS at this point. For sound bites just click any of the albums in the sidebar column of the page. You will find a more intimate and detailed picture of him on the following section where Jay himself, his dad and friends are adding to the multicolored painting of Jay Graydon - the Music Magician.