Jay Graydon Biography
Jay Graydon may not be known to each and everyone, but to all lovers of quality music he is known as one of the greatest guitar players and songwriters of all time in music history. Together with super producer/songwriter and long time pal David Foster he is also known to die-hard fans in Europe and Asia as the co-founder of "Westcoast Pop Music". This music genre has its roots in the late 70s, and is also labeled Adult Contemporary Pop Music or AOR for short, Soft Rock, and Yacht Rock.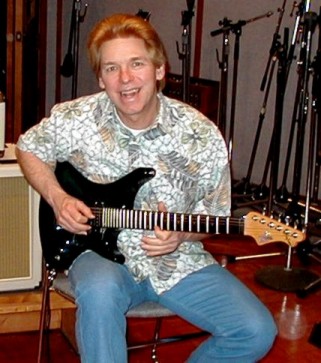 Jay Graydon at Garden Rake Studios
JAY GRAYDON is a music industry veteran, internationally renowned, with many hits over the years. He is a Los Angeles top songwriter, recording artist, 1st call studio guitarist, producer, arranger, engineer, and more - twice Grammy awarded with 12 top five Grammy finalist nominations, among them are for instance the winning R&B songs AFTER THE LOVE HAS GONE (a huge #1 hit with Earth, Wind & Fire and also nominated SONG OF THE YEAR) - co-written with David Foster and Bill Champlin, and TURN YOUR LOVE AROUND (a huge #1 hit with George Benson - co-written with Bill Champlin and Steve Lukather) and the nominations for e.g. the prestigious title "Producer of the Year" as well as a 12 time Grammy top five finalist in the following categories.
SONG OF THE YEAR - AFTER THE LOVE HAS GONE (Single)
ALBUM OF THE YEAR - BREAKIN' AWAY (Album)
BEST RHYTHM & BLUES SONG - AFTER THE LOVE HAS (IS) GONE - WINNER!
BEST RHYTHM & BLUES SONG - TURN YOUR LOVE AROUND - WINNER!
PRODUCER OF THE YEAR - NON-CLASSICAL (1983)
BEST ENGINEERED RECORDING - NON-CLASSICAL - JARREAU (Album)
BEST ALBUM OF ORIGINAL SCORE WRITTEN FOR A MOTION PICTURE OR TELEVISION SPECIAL - GHOSTBUSTERS (Album)
BEST ALBUM OF ORIGINAL SCORE WRITTEN FOR A MOTION PICTURE OR A TELEVISION SPECIAL - ST. ELMO'S FIRE (Album)
BEST INSTRUMENTAL ARRANGEMENT ACCOMPANYING VOCAL(S) - MORNIN' (Track)
BEST INSTRUMENTAL ARRANGEMENT ACCOMPANYING VOCAL(S) - STEP BY STEP (Track)
BEST VOCAL ARRANGEMENT FOR TWO OR MORE VOICES - KAFKA (Track)
BEST ARRANGEMENT FOR VOICES - TWILIGHT ZONE/TWILIGHT TONE (Single)
Since Jay Graydon is Grammy awarded and nominated in so many non-related music categories, he probably holds the record of being the most versatile Grammy musician, the artist with the most diversity out of all the awardees and nominees.
Further, a while ago, Ms. Janis Siegel of The Manhattan Transfer, who won a Grammy Award for the Vocal Arranging of the song BIRDLAND, included on the album EXTENSIONS, which Jay produced, requested from The Recording Academy, that Jay would be officially approved to share the win with her, since he had been instrumental in assisting her with this vocal arrangement, and his help was absolutely crucial in leading to her Grammy win.
Unfortunately, the request from Ms. Siegel came too late and did not comply with the strict time limits stated in the Grammy rules for them to make an official change to the awards history, and consequently the Grammy award for BEST ARRANGEMENT FOR VOICES of the song BIRDLAND, could not be officially accepted and registered as a regular Grammy win for Jay Graydon as a co-arranger together with Janis Siegel.
As you may already know Jay Graydon is the main songwriter/producer behind Al Jarreau's tremendous success in the 80s (something Al himself pointed out in a French TV show). Jay Graydon was instrumental in making Al Jarreau known to a larger audience and he co-wrote several hits with Al (e.g. MORNIN', BREAKIN' AWAY, HIGH CRIME, AFTER ALL, ROOF GARDEN, LOVE IS WAITING, TROUBLE IN PARADISE, CLOSER TO YOUR LOVE and many more). Jay Graydon produced the Jarreau albums BREAKIN' AWAY, HIGH CRIME, THIS TIME and JARREAU among others and on them he also played the guitar and synthesizer, was a songwriter, arranger and engineer.
Jay Graydon was GRAMMY nominated among the top 5 finalists for the following Al Jarreau songs and albums:
Album Of The Year - BREAKIN' AWAY
Best Instrumental Arrangement Accompanying Vocals - MORNIN'
Best Instrumental Arrangement Accompanying Vocals - STEP BY STEP
Best Engineered Recording -for album JARREAU
Producer Of The Year - for album JARREAU
Jay Graydon made his singing debut on his 2nd birthday on the "Joe Graydon Show," the first music/talk television show in Los Angeles, hosted by his father Joe Graydon for several years.
Jay Graydon started his musical career by playing drums(!) but soon discovered what would be the love of his life - (and I am only talking about music now) - the guitar. During and briefly after his college days Jay Graydon played in the renowned Don Ellis Band for a period of time. The Don Ellis music style can be described as experimental post-bop jazz.
Between the late 60s and the late 70s Jay played on practically every "A" list session in Los Angeles acquiring a glowing reputation as an ace studio guitarist/ solo specialist on numerous albums with all the major artists of the era; The Miracles, Marvin Gaye, Barry White, Aretha Franklin, Shaun Cassidy, Leif Garrett, Paul Anka, The Osmonds, Donny & Marie Osmond, The Supremes, Diana Ross, Donna Summer, Barbra Streisand, The Jackson 5, Andrae Crouch, Frankie Valli, Alan Sorrenti, DeBarge, El DeBarge, Four Tops, Gino Vannelli, Syreeta, Sheena Easton, Randy Crawford, Country Joe McDonald, Eddie Kendricks, Dolly Parton, Cheap Trick, Carpenters, Christopher Cross, Olivia Newton-John, Ray Charles, Cher, Joe Cocker, Hall & Oates, and Albert King, just to name a few.
Jay Graydon is a hard working guitarist, songwriter and producer. He has written more than 300 songs (... and counting...) whereof 2 songs were Grammy winners as mentioned above, and many of his songs are included on gold, platinum and even multi-platinum albums. Jay has written many songs together with highly acclaimed songwriter/producer, hit maker, lifelong friend and colleague David Foster and in 1979 they recorded an album entitled "Airplay", and they have been told they started a new style called West Coast Pop with this album, which is known as THE Westcoast Album! Check out the ever growing song catalogue for more info on all the songs he has written over the years. Jay is writing many new songs in various genres such as pop, dance-pop, straight-ahead jazz, crooner style jazz, r&b, country, classical crossover pop opera (also known as popera) and smooth jazz.
Jay handles the guitar following the "less is more" concept, playing with subtle intelligence and intense feeling as well as technical accuracy. He is maybe first and foremost known for two very special ways of playing the "one note mute rhythm guitar playing" like in Grammy nominated (Album of the Year 1981) "Breakin' Away" from BREAKIN' AWAY/Al Jarreau and the "wire-choir" as in the fading out of in the song "She Just Can't Make Up Her Mind" from AIRPLAY FOR THE PLANET. Apart from the wire-choir you may also enjoy some deliciously harmonic solo guitar structures as well. The tone of his solos is warm with a long sustain. He tells you more about it on the Gear & Studio section of the site. You will find more wire-choirs and outstanding guitar solos on other sections of this website, for instance the Play Like Jay page or the Listen and Enjoy page.
This multi-talented musician is also a great singer. Just listen to Jay on the AIRPLAY/Airplay album, as well as on the JaR/SCENE 29 album, on which he is the lead singer of some of the songs. However, Jay often prefers to leave the singing to other artists he is working with in projects like e.g. PLANET 3 and AIRPLAY FOR THE PLANET. On the mp3 files the sound quality is reduced. Purchasing the "real thing", i.e. the albums, will of course, give you top quality.
Among the songwriters, Jay has co-written songs with, are e.g. David Foster, Steve Kipner, Marc Jordan, Richard Page, John Bettis, Glen Ballard, Clif Magness, Al Jarreau, Robbie Nevil, Donna Summer, Bill Champlin, Steve Lukather, Herbie Hancock, and Randy Goodrum, to mention a few. Apart from the aforementioned Grammy winners, Jay has co-written Friends In Love for Dionne Warwick and Johnny Mathis, several hits with Al Jarreau, Who's Holding Donna Now for DeBarge, co-written with Randy Goodrum, several hits with The Manhattan Transfer such as Twilight Zone/Twilight Tone, On The Boulevard, Smile Again, Spies In The Night, just to name a few. The full song catalogue is noted here.
When Jay Graydon started writing songs and producing full time, after 3 decades of successful studio session work, he remained playing guitar on his own record productions, as well as doing session work for other artists upon request.
Jay Graydon co-wrote the theme songs for TV shows "Gimme A Break" (co-written with Richard Page) and 2 songs for "Thicke Of The Night" (the theme and end theme song) co-written with TV celebrity Alan Thicke and highly acclaimed songwriter/producer David Foster, and he has participated in a large number of television shows and movies as a songwriter, soundtrack performer, producer, and/or studio guitarist, e.g. The Andy Williams Show, The Jackson 5 Show, The Tonight Show starring Johnny Carson, Thank God It's Friday, Thicke Of The Night, Happy Days, S.W.A.T., Fridays, Miami Vice II, Navy Seals, Starsky and Hutch, The Ed Sullivan Show, The French Connection, A Star Is Born, Grease, Cheers, Ghostbusters, Never Say Never Again, One Hour Photo, Safe, St. Elmo's Fire, Royal Pains, Six Feet Under, Arrow, The Bold and the Beautiful, General Hospital, The Office, Masters Of Sex, The Simpsons, Ray Donovan, Anchorman 2: The Legend Continues, Black-ish, Funny People, Magic City, Gibby, The Rewrite, The Meddler, The Deuce, David Letterman Show, American Housewife, The Blacklist, Superstore, The Tonight Show Starring Jimmy Fallon, Jimmy Kimmel Live, Hired Gun, The Martian, Charlie's Angels, Who You Gonna Call, Young Rock, and many more. More details are noted on the movie page.
Jay's production merits include e.g. mega stars such as Air Supply, George Benson, Al Jarreau, Herbie Hancock, DeBarge, El DeBarge, Sheena Easton, Art Garfunkel, The Manhattan Transfer, Johnny Mathis, Patti LaBelle, Lou Rawls, Kenny Rogers, and Dionne Warwick just to name a few.
Jay decided in 2001 to start his own record label - SONIC THRUST RECORDS to have total creative and artistic freedom in his song writing and producing profession. The first album on SONIC THRUST RECORDS is BEBOP which is a musical manifesto of the versatility of this multi-talented artist. This album is filled with new classy instrumental jazz played by top-notch musicians.
Randy Goodrum and Jay Graydon are currently working together as the new supergroup - JaR. Their first album as JaR - SCENE 29 - released in late 2008, is a melodic masterpiece with songs across the board - a mixture of POP, R&B, AC, AOR and JAZZ, kind of in the Steely Dan vein, but with their own unique style. At this point are working on the 2nd JaR album scheduled for release later this year (2023).
Over the years Jay has written many articles in various music magazines and one of them, an extensive, extremely well written article on how to succeed in bass recording land - "Bass Meets The Studio" - published in BASS PLAYER magazine, was nominated for the Maggie Award in the category - "Best How-To Article in a Consumer Magazine". Jay has also written 32 comprehensive and highly appraised articles on Recording the Guitar for Guitar.com with tons of information. The articles are not available on that website any longer, but Jay will go through the content in his upcoming YouTube channel within a few months, plus so much more. We will announce the launch of the YouTube channel on Jay's website, as soon as he has mixed the second JaR album - CODE - spring 2023. So keep hanging around!
As an educator Jay Graydon conducted seminars at Musicians Institute in Hollywood together with guitar legend Tommy Tedesco for more than 15 years.
Among the many acknowledgements Jay Graydon has received over the years, N.A.R.A.S. - the Grammy board - once nominated him as Studio Guitarist of the Year.
Jay Graydon was the soloist Grammy awarded (2001) Donald Fagen and Walter Becker of Steely Dan chose for the legendary guitar solo on PEG on their album "Aja", after turning down 7-8 other guitar players. See the video with the Fagen and Becker interview with that discussion.
In the footer below, you will find links to more detailed information adding to the multicolored painting of
JAY GRAYDON - The Music Magician.